With Thanksgiving fast receding in the rear view mirror, it's time to start making your lists and checking them twice!
Holiday-loving little elf that I am, I assembled a few ideas for the adventuring-types on your Nice List.
If I can keep just one Pandora charm bracelet off the streets (shudder)… then my job here is done…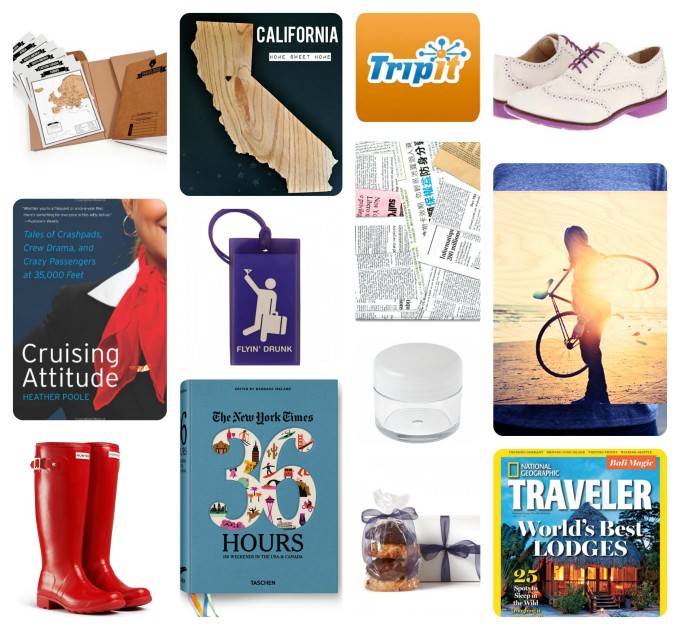 First Column of Fun:
Luckies of London Travelogue Travel Journal, $27: You know the kids' activity books your mom would give you to keep busy on roadtrips?  The ones with puzzles and stickers and places to draw? This is the adult version! It's jam-packed with scratch-off maps, planning checklists, and lots of corners for your notes while exploring the world.
Cruising Attitude by Heather Poole, $13: Secrets from a flight attendant in addictive book form.  The perfect in-flight entertainment.
Hunter Packable Tour Rain Boots, $140: Rain boots that roll up to Keds-size… AND (as if the first part weren't cool enough already)… they come with their own drawstring sack, so wet boots don't sully the rest of your suitcase!  Totally revolutionary for travelers who like to explore off-season.
Second Column of Fun:
Your State cutting board, $39: Any state you want!  Because everyone likes to be reminded of home.
F1 Flyin' Drunk Luggage Tag, $7: Never, NEVER have I wanted a luggage tag more. I don't know about you, but whenever I'm flyin', I'm flyin' drunk.
The New York Times 36 Hours: 150 Weekends in the US and Canada, $40:  I love everything about this book, from its cleverly crafted weekend itineraries to its mod styling and colorful ribbon bookmarks.
Third Row of Fun:
TripIt Pro Subscription, $49: An electronic Travel Wife.  TripIt organizes ALL the travel details (flight info, car rental, hotel, activities) into one document. Flight canceled? No prob, TripIt alerts you & sends the best alternatives for rebooking on the go. Want an alert when an aisle seat opens up? It'll do that, too. I don't work for them- it's just that amazing.
Dinomighty Newsprint Laptop Case, $18: I own this already, and I love it. It's lightweight, indestructible, made of recyclable Tyvek, and it allows me to operate in stealth mode- people are forever asking me why I'm carrying around a stack of newspapers.  It's how I imagine Clark Kent felt when people asked him about Superman.  Play it cool, Clark, play it cool.
Muji travel bottles, $2: The perfect stocking stuffer. These bad boys have come with me all over the world, and they have yet to spill any of the various potions & serums I require to look like a normal human.
Levain Bakery Assortment of 4 Cookies, $27: Levain Bakery in NYC makes the BIGGEST, BESTEST chocolate chip cookies in the entire world. Undisputed Fact. Now that they ship their goods all across the U.S., you can bring a little part (the best part?) of New York to you.
Fourth Column of Fun:
Cole Haan Alisa Oxford, $125: Comfy shoes are a prerequisite for adventuring.  But there's a certain sadness about frumpy orthopedics, no matter how cloud-like they feel on your feet. These are the best of both worlds.
Woodsnap photo printing, starting at $32: Your favorite travel photos (even Instagram shots!) printed onto wood!  How crazy-cool is that? Like my favorite memories mated with a tree.
 National Geographic Traveler subscription, $12: When you've got the wanderlust real bad, it's important to have a stopgap measure for those pesky times when you have to stay home and, you know, work.  The glossy pictures work wonders in tiding me over til the next time I get to take some of my own.
For The Win:  Noticed that new little Passports with Purpose widget on the right side of my page?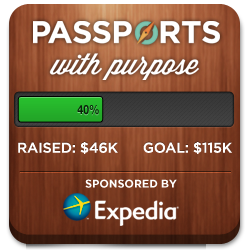 This year I'm supporting Passports with Purpose, which is raising money to build three schools and fund three adult literacy programs in Mali, Africa.  It's a relatively easy way to give back to the places we travelers visit.
Plus, for every $10 you donate, you'll be entered to win one of their amazing prices (seriously amazing- the first one I clicked on was a 9-day trip to Angkor Wat in Cambodia).
Helping to make the world around us a better place has got to be the very best gift of all, right?
*P.S. Check out the 2010 biographical drama "The First Grader" about an illiterate Kenyan man who enrolls in elementary school at age 84 after the government introduced free elementary education in 2003. Best movie I've seen in a really long time!
Want More?