Mr. M & I are not your typical romantics.
For Christmas, I got a taxidermied squirrel dressed for a battle at high noon. I fell in love- with both husband and gun-toting squirrel.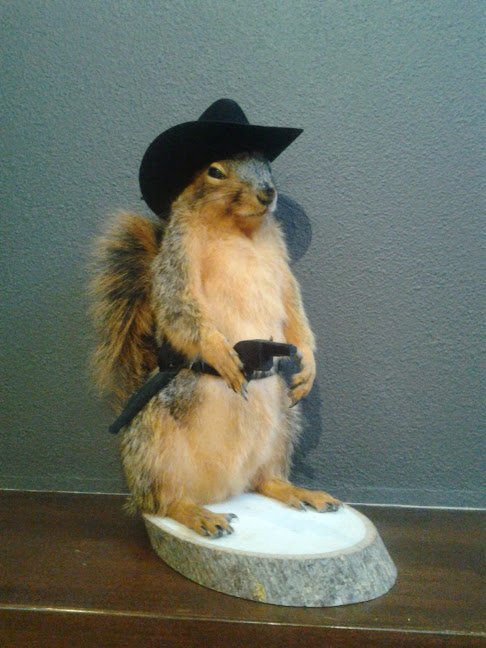 Day #11,663, Part Uno (Belize): I don't know how Normal People celebrate 6th wedding anniversaries, but Mr. M & I woke up at dawn to the sound of howler monkeys roaring in the Belizean jungle.
P.S. Google informed me that The Normals celebrate with a traditional 6-year gift of "sugar or iron." I have zero clue what that means (a banana? sugar + iron in one!) and will stick with my dead squirrel, thankyouverymuch.
Sorta-normal-like, Anniversary 6.0 did start off with breakfast in bed. We opened the front door to our room and discovered a thermos of coffee and two mugs waiting, swaddled in a basket on our doorstep. Huzzah!
The night before, lodge owner Nadege had told us there was indeed a "right" way to spend Saturday mornings in western Belize: canoeing down the Macal River to the town of San Ignacio and its weekly Saturday Market.
Although our lodge offered a guided tour, Mr. M & I were set on something a little more private. Besides, after surviving the Belize-Guatemala border crossing, navigating the Macal is a piece of cake.
Once we shoved off and separated ourselves from the larger tour group, it was exceedingly peaceful on the river.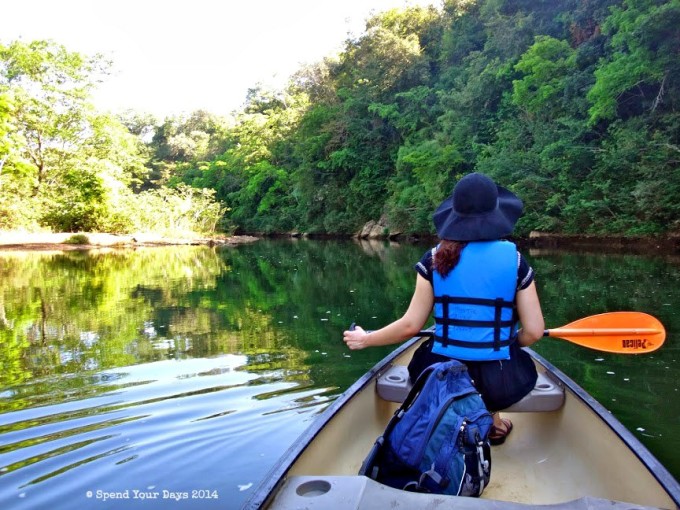 We dipped our toes in the emerald water and tried to take it all in.
Paddling down the misty Macal River amidst the cries of jungle birds and the bubble of mini rapids, I half expected blowdarts to come tearing from the river banks.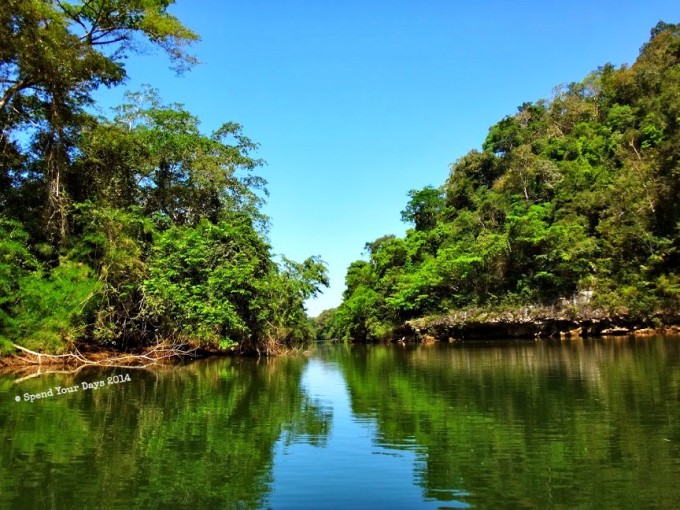 About two hours after we shoved off from camp, Mr. M & I floated into the town of San Ignacio, the homebase for most tourists exploring the Mayan ruins of western Belize.
We weren't the only folks wanting to spend a weekend afternoon by the river.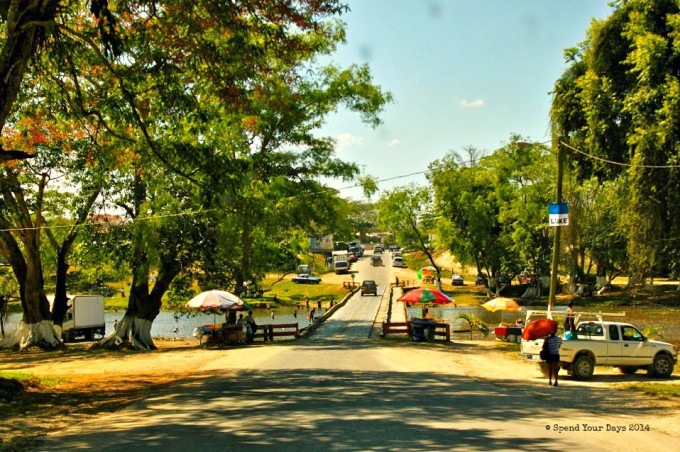 Saturday Market is home to food stands, clothing booths, tourist souvenirs, and one very enthusiastic roaming "vendor" shouting about the quality of his marijuana. (Though judging by his erratic behavior, it did not seem to be yielding a smooth high.)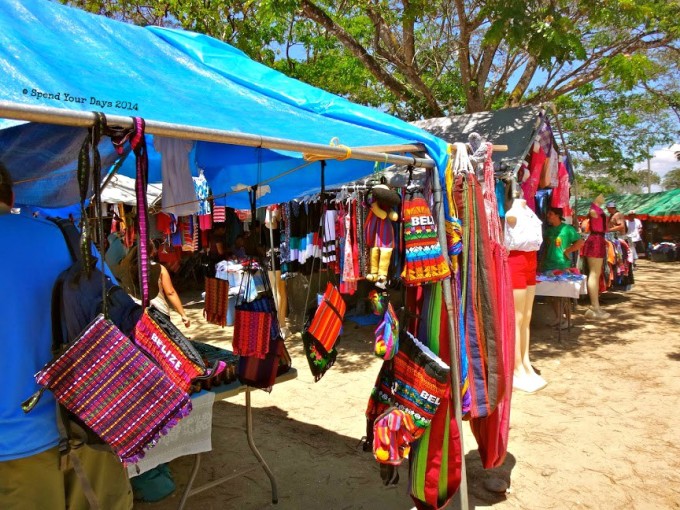 In between the butcher shops, fruit stands, and shave ice set-ups emerging from family Igloos, lunch at Saturday Market would've been totally doable.
But Mr. M & I opted for a little more romance and decided on the shaded patio at Martha's for anniversary lunch.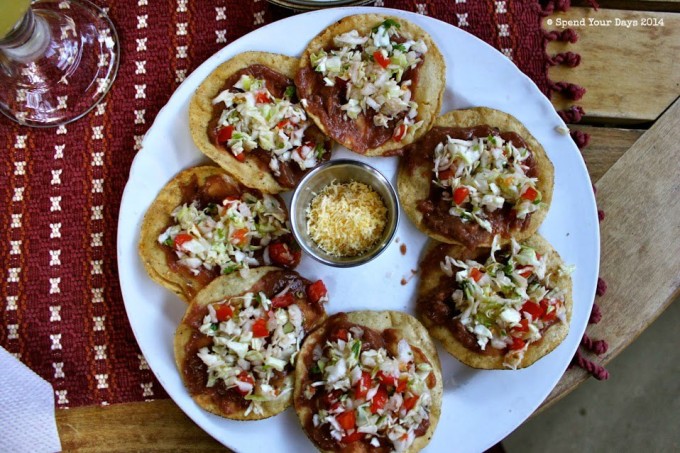 A bit of adventure was the perfect way to toast our six years of marriage.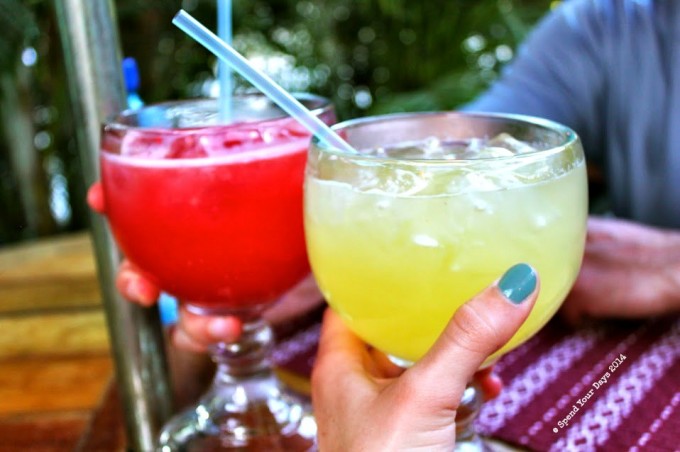 But that's coming from the girl who thinks romance is a dead squirrel.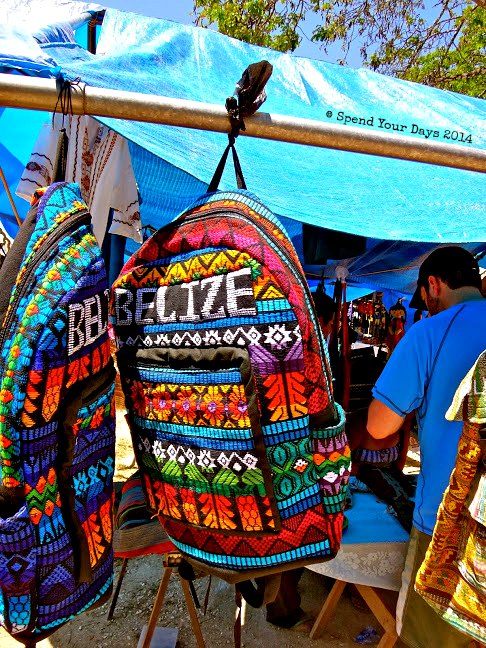 To be continued… (With phobia-defying Mayan ruin treks and a visit to the Iguana Conservation Center!)
You Can Do It, Too!
All the jungle lodges situated along the Macal River seem to offer canoe rentals for the Saturday pilgrimage to San Ignacio. Going it on your own is easy- just head downstream!
After you pass this bridge…
… paddle over to the cement dock on the left. You'll see Saturday Market just along the river bank!
There's a taxi rank just next to the Market and another one adjacent to the town square, so you can catch a ride back to your hotel.  We were pretty far from town, and the ride cost us $50 Belizean dollars ($25 USD).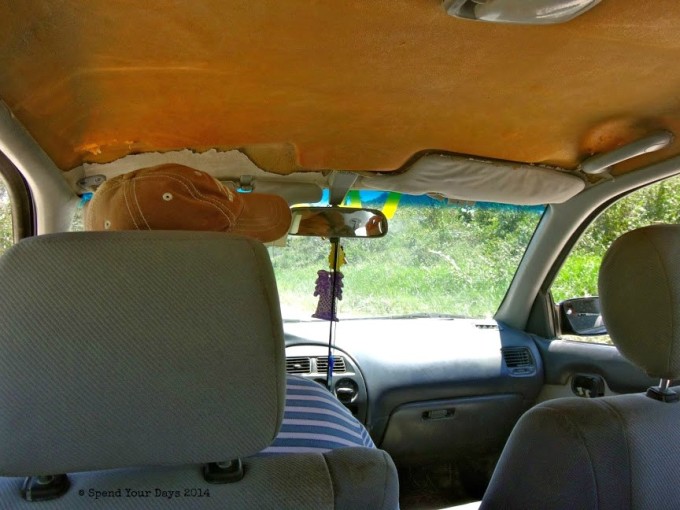 I can't recommend Martha's (10 West St, San Ignacio) enough. Full Disclosure: Mr. M & I ate here TWICE, having stopped by the night before to celebrate making it to Tikal & back alive. It was so delicious. And those giant glasses of freshly squeezed fruit juice (lime, watermelon, pineapple, or orange) were only $2 each.
Want More?