Prior to visiting Barcelona, I identified the city with (1) childhood memories of the 1992 Summer Olympics, (2) the brief section of my monolithic high school art history book dedicated to the architect Antoni Gaudí, and (3) tapas.
[And in all honesty, (4) that scene in the movie "The Internship" where Vince Vaughn fights with his soon-to-be-ex over the correct pronunciation of Barthaylona.]
I guess you could say I didn't know what to expect.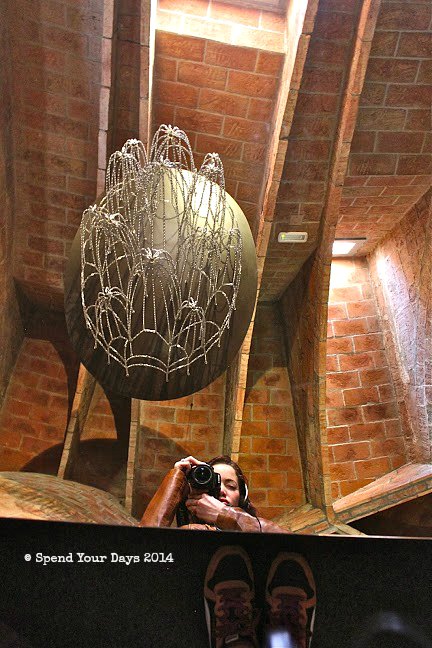 Day #11,577: Mr. M & I decided to visit Gaudí's Casa Milà (aka La Pedrera) on a whim, partly because it happened to live down the street from our hotel and mostly because it's poor form to go to Spain and do nothing but eat tapas all day.
While we waited in the longer-than-expected ticket line (beware: all lines in Barcelona are longer than expected), I started warming up to this impromptu stop that wasn't tapas.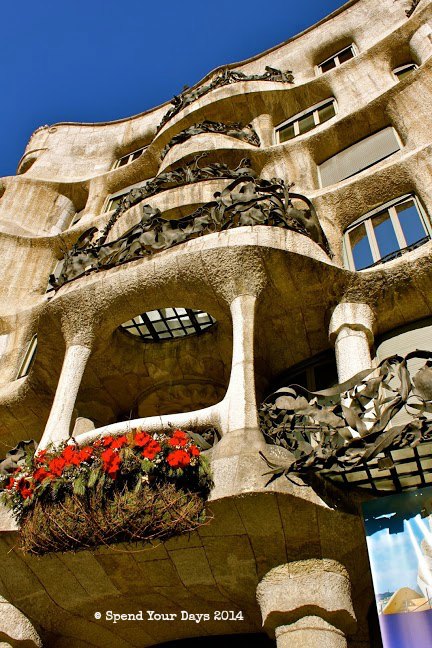 Shuffling past in line, I found the architectural details to be consuming.  Balconies made of twisted, fiery metal… a sandy exterior that looked poised to swallow up its windows… a mirrored door laced with tentacles.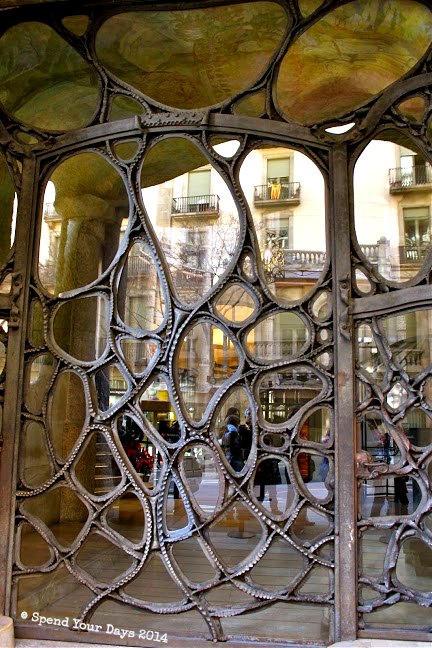 Built between 1906 and 1912, Casa Milà was originally commissioned as a family home, with additional apartments included for use as rentals.  Today, it's one of the most famous Modernist buildings in Spain and has been designated a UNESCO World Heritage Site.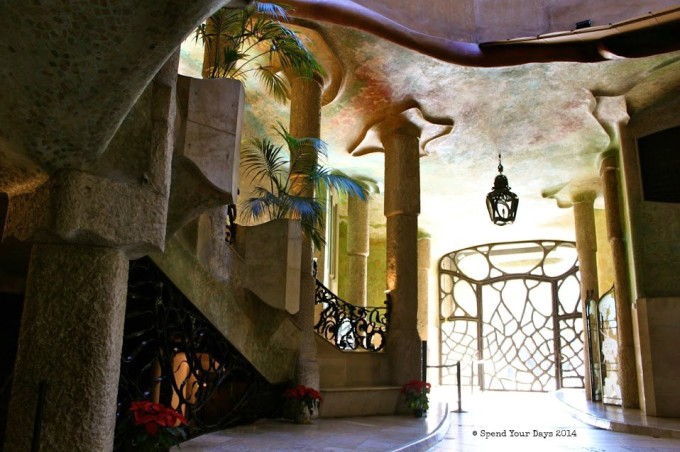 The included audio tour took us through the interior of one of the apartments which was decked out in early 20th century bourgeoisie, but the real star of the show was the rooftop.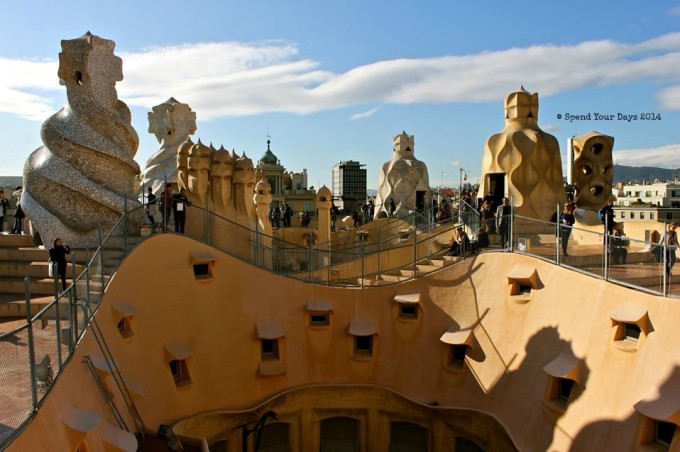 The roof is scattered with chimneys and ventilation shafts sculpted like swirly beehives and Stormtrooper helmets.  One of the chimneys was even studded with broken champagne bottles!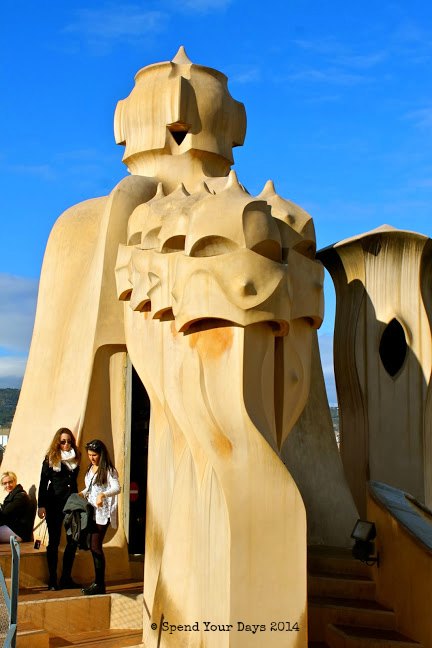 I was completely hooked on Gaudí's wonderland.
Gaudi's crowning achievement (despite not technically having been "achieved" yet… details, details) might be La Sagrada Familia, a famous and massive church that's been 130 years in the making with no signs of being completed any time soon.
Smug bastards that we are, Mr. M & I strolled up an hour or so before closing, and… ran smack into a ridonkulous line that wrapped all the way around the block.  Damn.  The line was so long, in fact, that one of the ticket-sellers came to inform us- and everyone behind us- that there was no way we'd make it in before La Sagrada Familia closed for the night.  Considering we were scheduled to fly to Morocco the next day, this would be our only time to behold Spain's most popular sight.
Luckily, other people took her advice to heart and started pulling out of line.  So we moved closer to the front.  And closer.  And 10 minutes before closing time (!!), we had our tickets in hand and were sprinting into church.  Not entirely reverent, but I'm sure the Lord makes allowances for enthusiasm.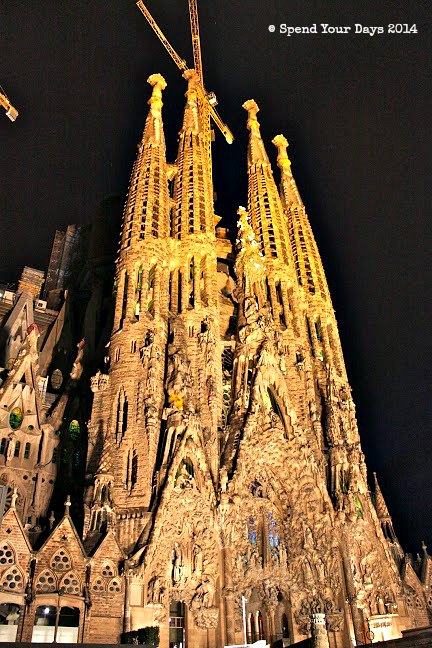 Even in ten minutes, Sagrada Familia was stunning.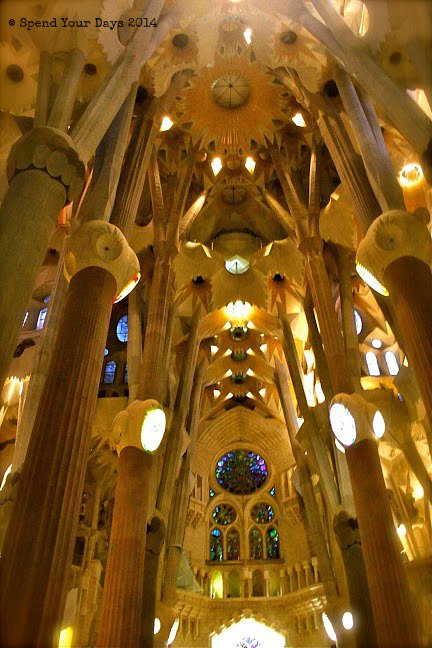 When Gaudí died (after being hit by a streetcar, of all things!… is 'streetcar' something I should add to my list of preposterous phobias?), only a small portion of Sagrada Familia had been completed… and then Gaudi's plans for the building were partially destroyed by a fire.  Take-away lesson, kids: When you're working on something super-important, look both ways before you cross the street.
Different interpretations of Gaudí's plans have resulted in distinct sculptural styles and continuing debate over how the church should be completed.  Because subsequent sculptors and architects have contributed their own (sometimes contrasting) visions, Sagrada Familia is an architectural hodgepodge.  The front and back facades seem to come from two different buildings!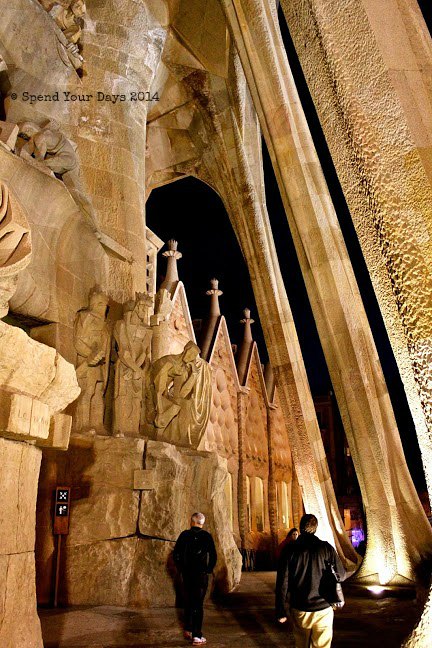 I wasn't 100% sure what to expect out of Barcelona, but for me -at least after 24 hours dominated by awesomely surreal architecture- the city has become synonymous with Gaudí.
The same architect I studied in high school art history and didn't give a second thought.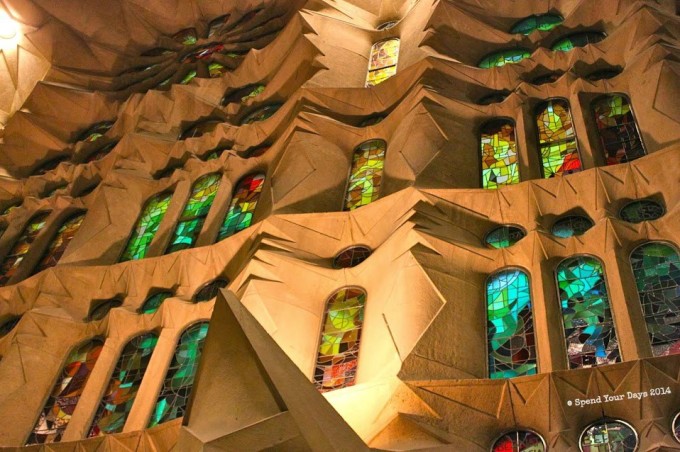 Those glossy pictures in my textbook lacked the passion that Gaudí's masterpieces all but screamed in real life.
I suppose it's fairly difficult to convey profound awe in a textbook ("Chapter One: You Don't Even Understand… It's Just… You Don't Even Understand").  And maybe that's not the point.
Standing under the web of pillars at Sagrada Familia made me wonder what other chapters I'd skipped over, unaware that those words on a page translated to "… WOW…" in real life.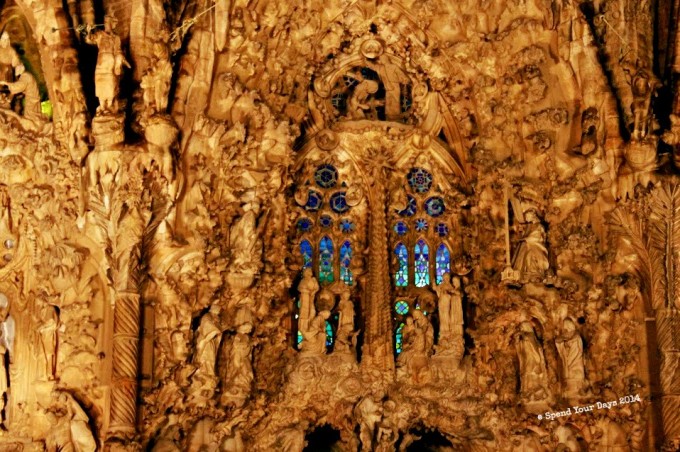 Have you been somewhere or seen something that unexpectedly knocked your socks off?
Details of the Day:
Learn from my mistake, and make sure you get to La Sagrada Familia with plenty of time to wait in line for at least an hour and a half.  In talking to the guides, I was told that the least busy time is during the middle of the day, around 2pm. Plus, if you get there not-10-min-before closing, you can climb the huge towers for an angel's view of Barcelona!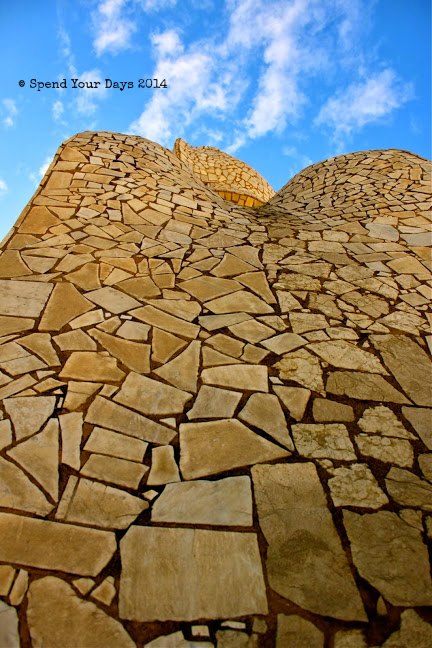 Public transportation in Barthaylona is fantástico.  We took the clean and efficient subway system all over town.  I was similarly impressed with the high-speed AVE train that we rode from Madrid: it was clean, efficient, and, like most transportation in Europe, made me shake my head in disgust at Los Angeles, Metropolis of Cars.
Despite quickly forsaking tapas in the name of my new love, architecture (Tapas?  Tapas who?), Mr. M & I enjoyed a rather delightful dinner at one of Tapas 24's sidewalk tables (269 Diputacio).  Probably because we learned from our lesson at Sagrada Familia and showed up early (at least according to the Spaniards).  To avoid the 40 minute wait we saw while leaving, arrive before 8pm.
Want More?