**Sorry for the disappearing act, y'all!  I've been getting my learn on at the Western Veterinary Conference in Las Vegas.  On the plus side, I've attended a ton of reeeally cool lectures, including one reviewing the use of blow darts to deliver tranquilizers.  Mr. M is (rightly) nervous.**
Madrid is a city made for eating.
Which is convenient, as eating is kind of my jam. (Jammy pun intended.)
On our way to Morocco to celebrate New Year's with the fam, Mr. M & I couldn't help but think that a place so happily yoked to cuisine deserved at least a 24 hour layover.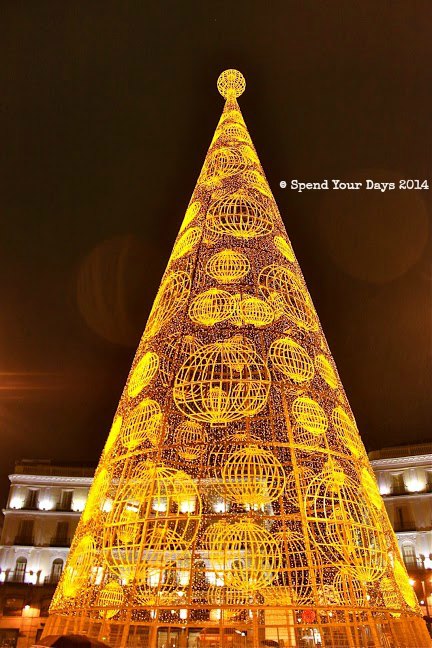 Despite professional-grade gorging in the name of the holiday season, the waistband of my jeggings hadn't cut off my circulation quite yet.
Challenge Accepted.
Days #11,576-77:  Mr. M, my man of few words, has very few requests in life.  A little peace & quiet, a bike ride every now and again, and- apparently- Eating Paella in Spain.  The nice thing about being light on the demands is that when he does have a request, I'm all too happy to make it so.
Besides- eating paella in Spain against your will is pretty low on the list of Terrible, Horrible No Good Things That Can Befall You.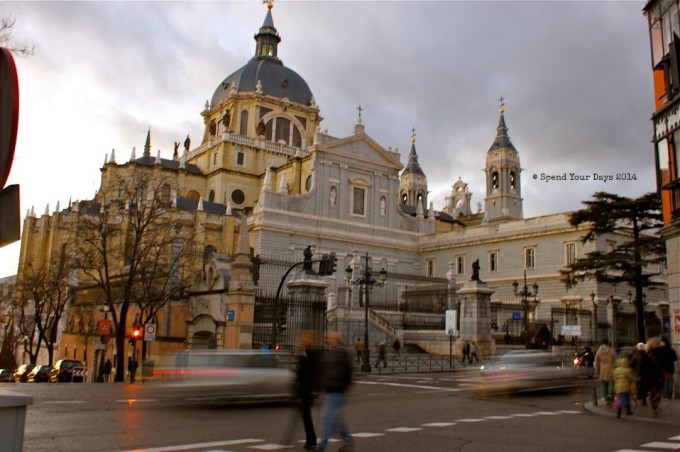 For those who haven't yet made its acquaintance, paella is a typically Valencian rice dish with all sorts of meats and saffron stewed in.  Unfortunately for me, paella is a carnivore's treat. It's rare to find vegetarian paella, and even if you do, it's not really… paella.
As paella is generally served as a group dish for the table, Mr. M & I settled into El Caldero (Calle de las Huertas 15) and determined that the seafood paella sounded the least offensive to my herbivorous tastebuds.
I figured I'd just pick the fishy bits out of my portion and throw them to Mr. M.  Like feeding a sea lion.
And then my Least-Offensive Paella emerged looking like this: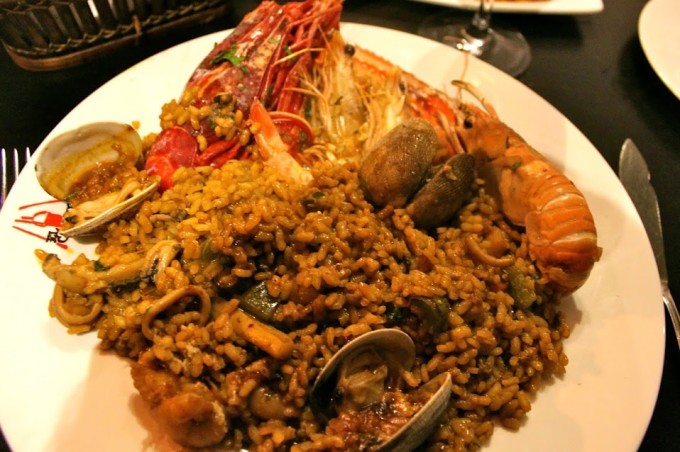 Ay, dios mio.  I blessed myself and took a gulp of sacramental sangria.
Dinner was a little intense.
But Mr. M was in heaven, which made me happy as a (stewed & saffroned) clam.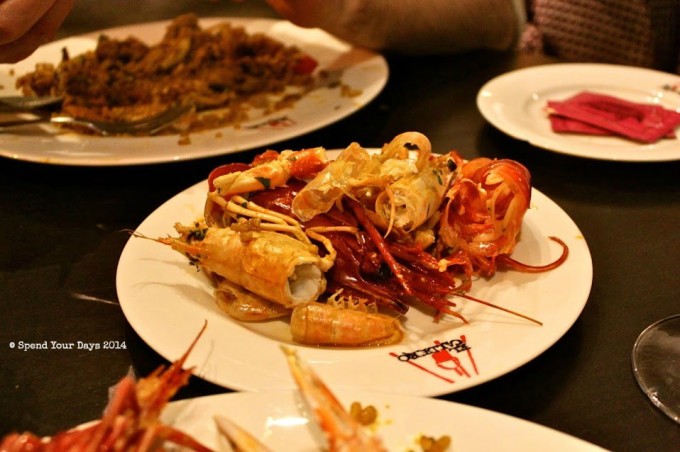 After all that carnage, I suggested we stop for churros con chocolate.  To cleanse ourselves.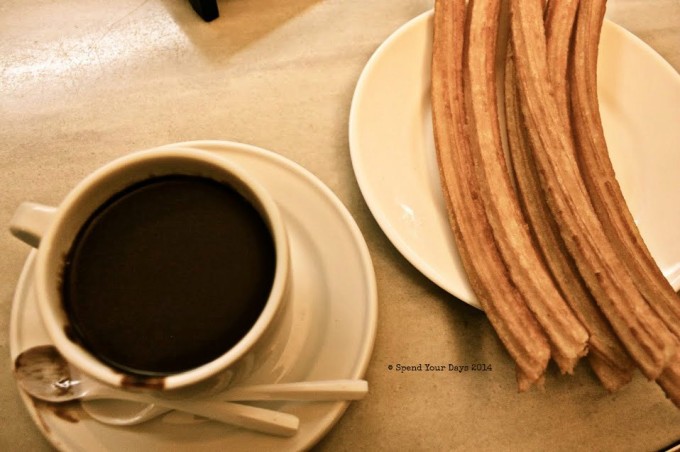 Spanish drinking chocolate is quite different than the hot chocolate we're used to at home.  It's super thick, intensely flavored, and nearly as dense as pudding.  Instead of being peppered with marshmallows, drinking chocolate is usually enjoyed as a bath for plunging freshly fried & sugared churros.
The next day, in the interest of well-roundedness, Mr. M & I tried to do something other than just snack our way through Madrid.
We walked.  (Usually in the direction of more food.  But that's neither here nor there.)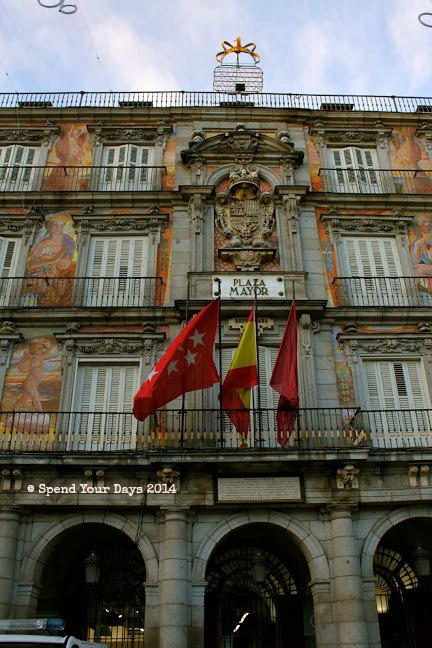 But all that walking builds up an appetite, ya know?
His carnivorous leanings not yet sated by last night's Sea-Creature-Carcass Rice, Mr. M wanted to try another treat for which Spain is famous: jamón Ibérico.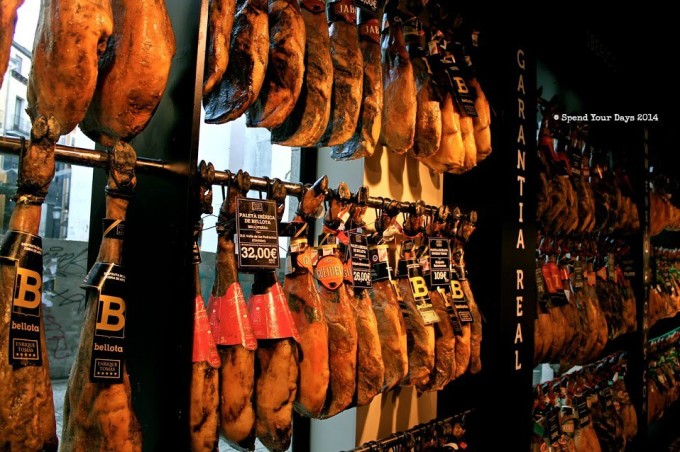 Jamón Ibérico is cured ham made from black Iberican pigs.  The fancy-schmanciest kind… as if special black pig ham weren't fancy enough… is the jamón Ibérico de bellota, which is born from pigs that roam oak forests and feed only on acorns for the last part of their piggy lives.
The jamón is such an important part of Spanish cuisine that whole, hoofy legs are often given as luxurious Christmas gifts!  Since jamón Ibérico has become legal in the US (the USDA approved the first Spanish slaughterhouse for import in 2005), I'm honestly not sure why we Americans haven't gotten into the limb-of-cured-meat-in-your-kitchen thing… they last forever, and you can just slice some ham shavings off whenever the need strikes.
It seems way less gross than sliced "lunch meat" to me, but maybe an herbivore isn't the best person to make this call.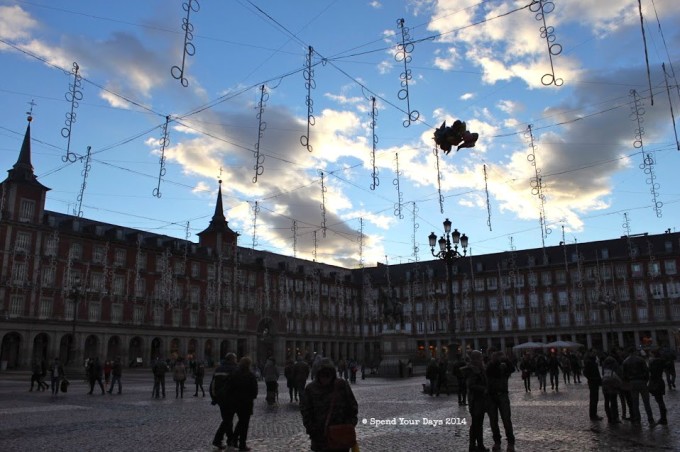 We had one final foodie mission before leaving Madrid… eating tapas!  Spain's famous little plates are served up exactly how I love to eat at home: a lot of little tastes of a lot of scrumptious things.  No getting in trouble for picking at other peoples' plates! (My secret favorite!)
We tried all the Spanish specialties: dense tortilla espanola (which is more like a potato quiche), crispy patatas bravas doused in spicy sauce, chips of Manchego cheese, empanadillas… all washed down with a few glasses of red Spanish wine.
Like grazing a table full of different tapas dishes, I try to see and do a little bit of everything when I travel… a taste of culture… a sip of popular local pastimes… a nibble of the unique landscape.
But when you're served up a city that loves food as much as Madrid, it seems only right to do as the locals do- and EAT!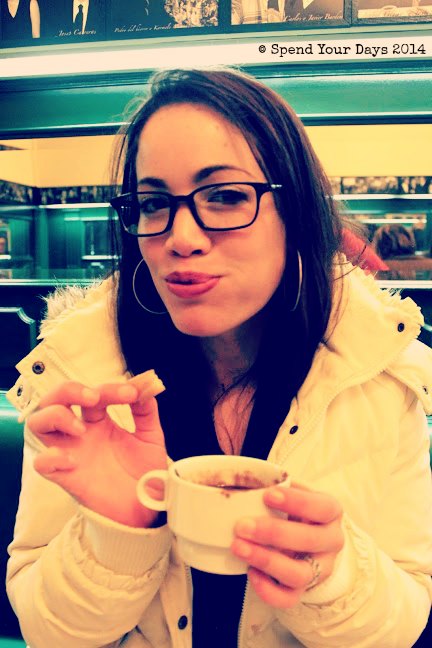 Thank Heavens for elastic pants.
Details of the Day:  As in Portugal, you'll frequently have unsolicited plates of appetizers placed on your Spanish dinner table… yummy-looking olives and cheese and bread and the sort.  Feel free to help yourself to the spread, but know that you'll be charged for any plate that you taste.  It's not like the free pre-dinner bread basket so often  included with meals in the States.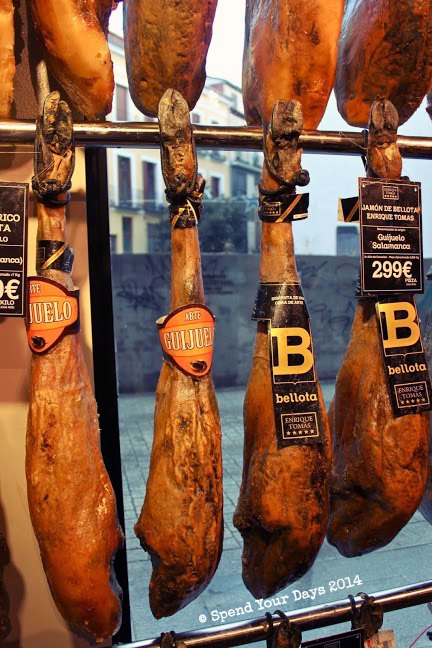 Madrid is littered with more scrumptious tapas bars than you'll know what to do with.  Just jump right in!  If you're vegetarian, it might be helpful to come with a cheat sheet of the most common tapas dishes so you can distinguish what's what.  Order a few in one bar, a few in the next… it's a foodie pub crawl of the most magnificent sort!
Happy Grazing!
Want More?