Day #11,874 (Athens, Greece): I'm traveling in Athens a little differently than I normally travel.
I'm here in Athens by myself… except that I'm not by myself. I'm really not by myself. I'm with 800 other travel bloggers who, in the name of the TBEX travel media conference, have invaded Athens like the Ottomans of centuries past.
Happily, the city of Athens has decided we battalions of travel bloggers, armed with iPhones & DSLRs & sensible walking shoes, pose far less of a threat. Instead, the Athenians have come out in full force to welcome us.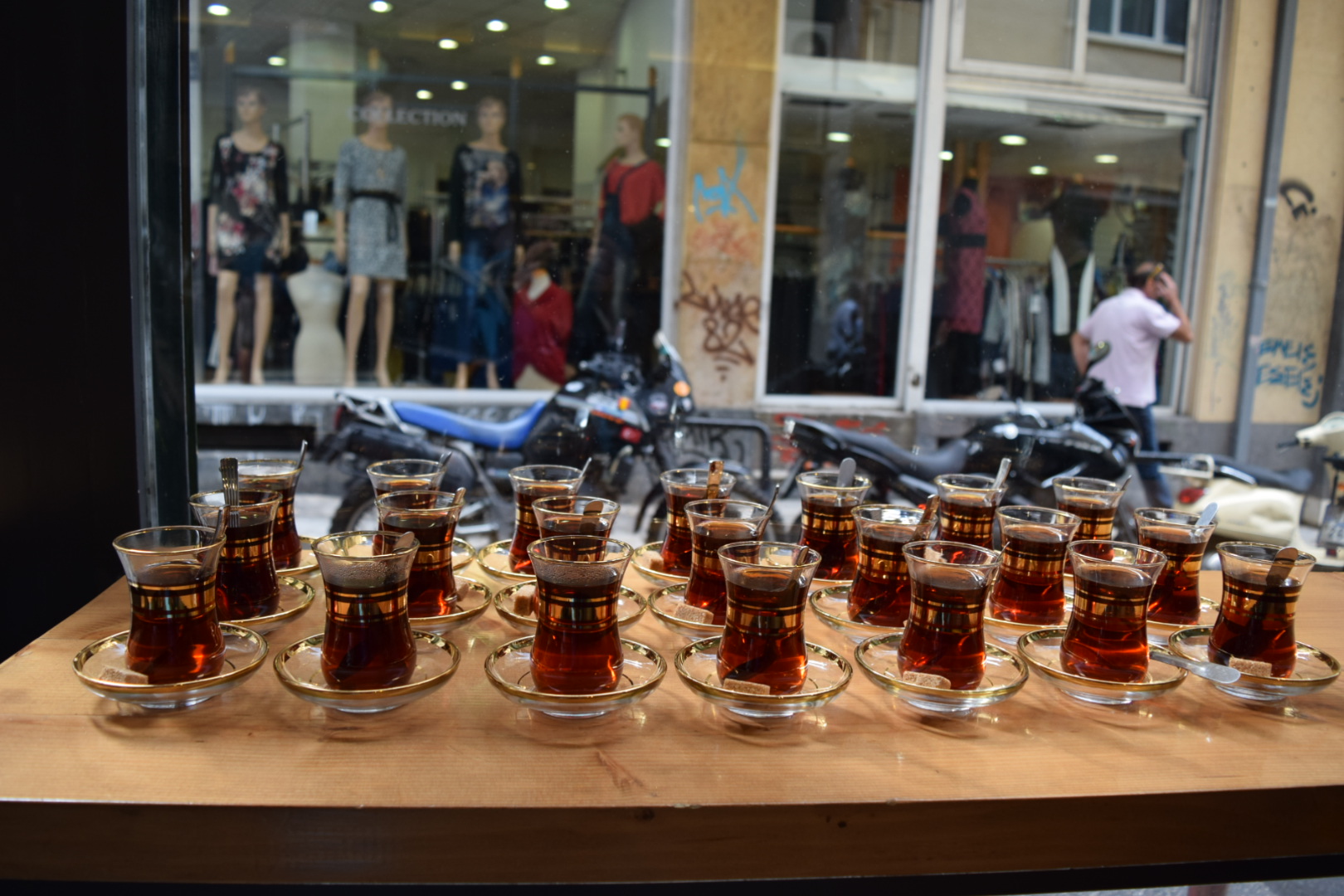 Yesterday, Big Olive Walking Tour offered to take me on a walking food tour in the city. Well, let me think- YES. YES. ATHOUSANDTIMESYES. Walking is my jam, and EATING is my jam. And marrying the two just might be my favorite way to understand a brand new place and culture.
In the midst of a thundering rainstorm, I splashed my way to our meeting point (and got lost because I don't do maps and then had to mime, in the pouring rain, my hoped destination to a flummoxed local and then was Really Soaking Wet). But nonetheless. I made it to meet Nikos & Yannis, our two brave guides. (Truly brave, I soon learned. Amidst a particularly raucous session of selfies, podcasting, and #documentingALLthethings in the already hectic Central Market, I asked Nikos if we were the worst behaved group in Big Olive history. He smiled, but, notably, did not respond.)
We stopped for freshly fried loukoumades (Greek doughnuts) at the family-run Stani Dairy Bar… and sampled plump olives and olive oil in the lobby of a surprisingly atmospheric Old Hotel turned office building… and snatched up dolma (rice-stuffed grape leaves) and cheese at Fanis' Fromagerie. I was in heaven.
I realized a couple things that afternoon:
1. I like that food tours are having a moment. Like the 15 seconds when colorful athletic shoes were uber-fashionable, the popularity of the food tour should not be questioned but simply enjoyed. Everywhere. Often.
And 2. While I love travel bloggers, I'm not convinced that I love traveling with them. Being surrounded by constant documentation erodes at some of the authenticity. Plus, there are a LOT of questions. And note-taking. They are a thorough peoples. And patience has never been the name of my game.
Which is why after the final rose + cinnamon scented Greek coffee and candied aubergine (don't knock a honeyed eggplant til you've feasted on it, friends) had been consumed at the Museum of Greek Gastronomy, I broke rank and decided to make the sunset walk back to the Plaka on my own.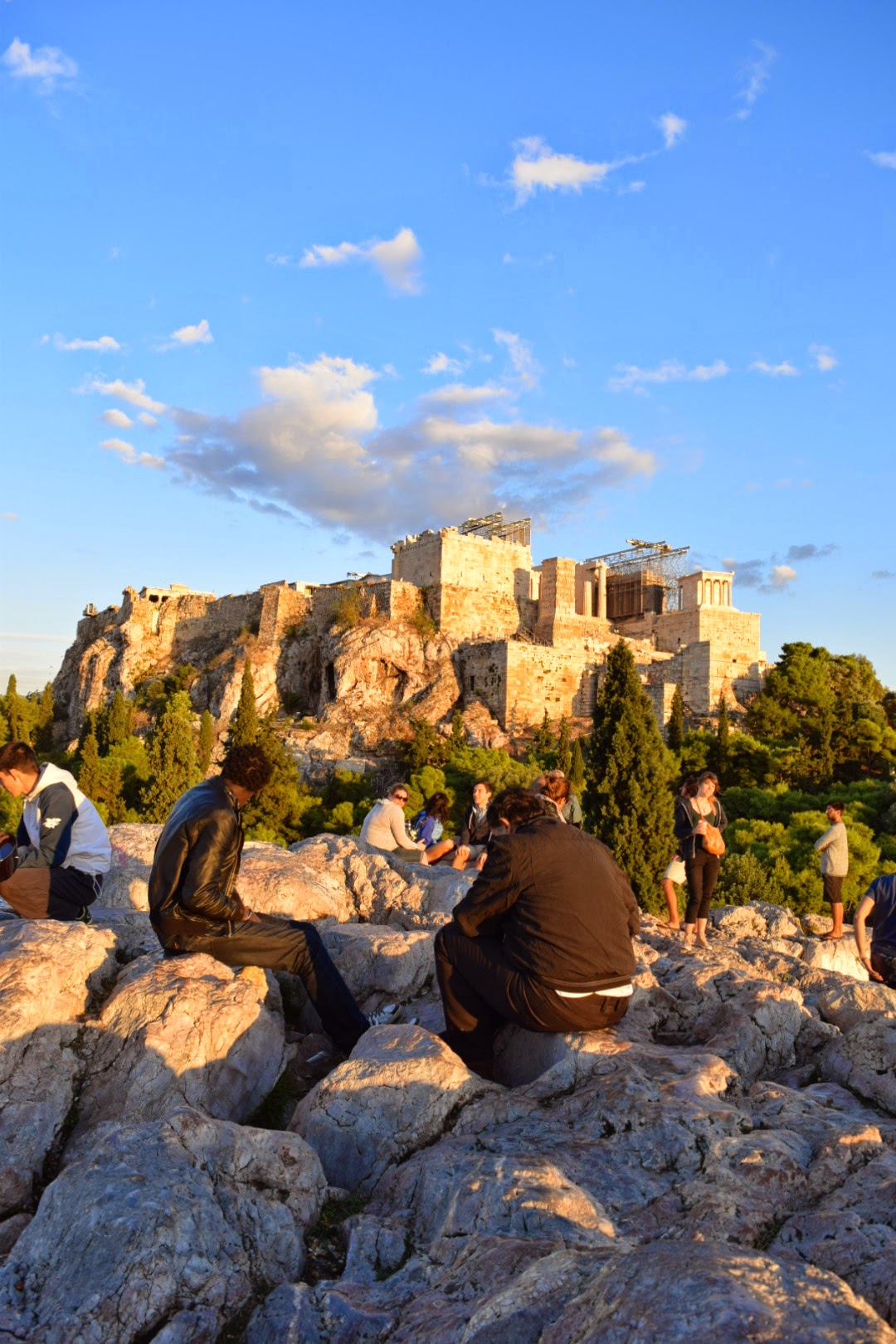 For all its other charms, Athens has the winning distinction of being a gorgeously charming place to get lost. The Acropolis looms over the city like a North Star, and as long as you know the relation of your destination to the mont, you're free to lose yourself in the staircases and windy lanes and back alleys.
And as the sun started its golden descent, I got deliciously lost. All by my lonesome.
I made friends with a Grecian alleycat.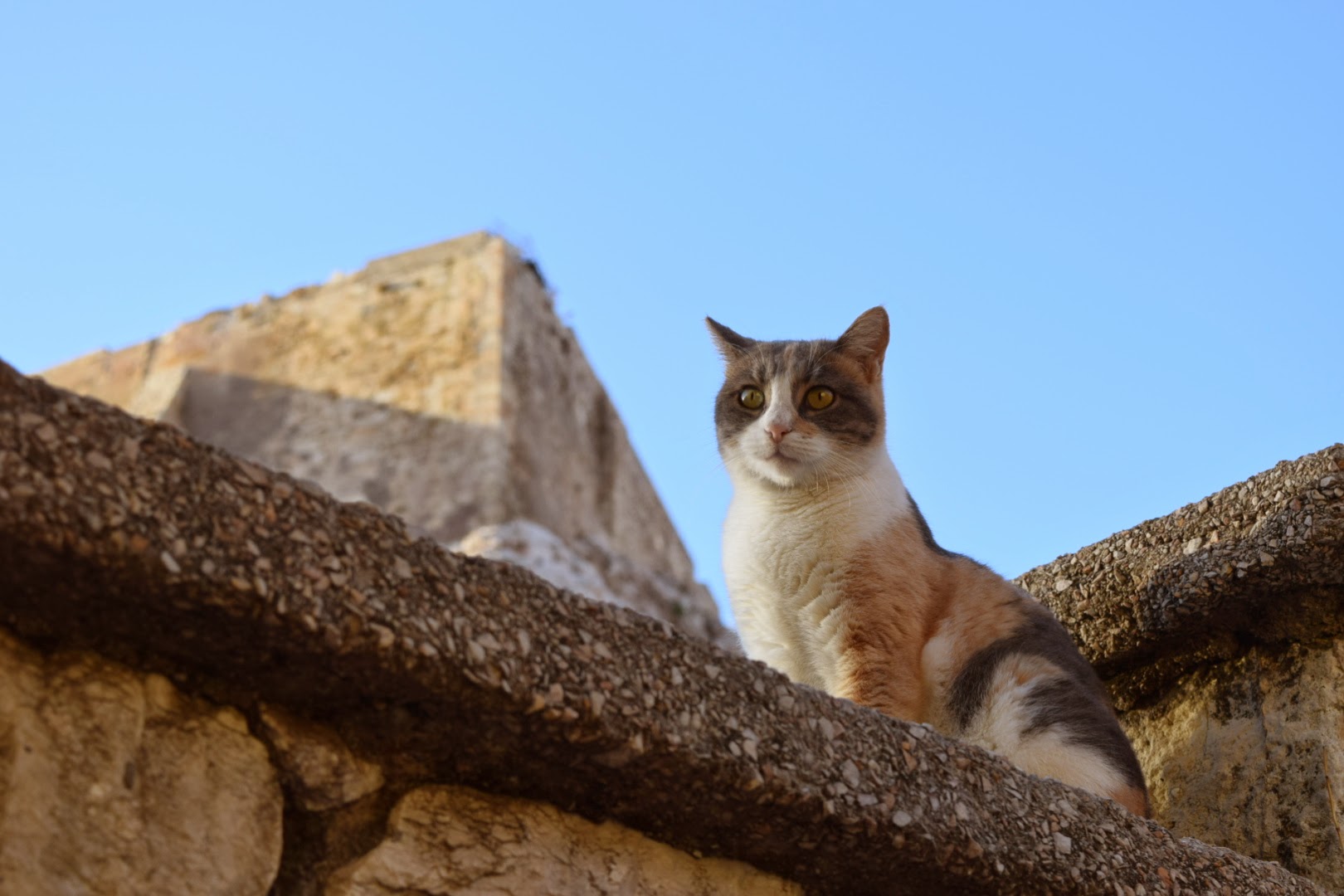 I strolled through a grove of olive trees.
I even accidentally happened upon what has to be Athens's best sunset spot. While the wind tried to blow us off our perch, Meowser and I (yes, I named her) watched the Roman agora speckle with shadow & light. Cat and human looked out over Athens, city of boundless history, and understood it, as best we ever could, in that one golden moment.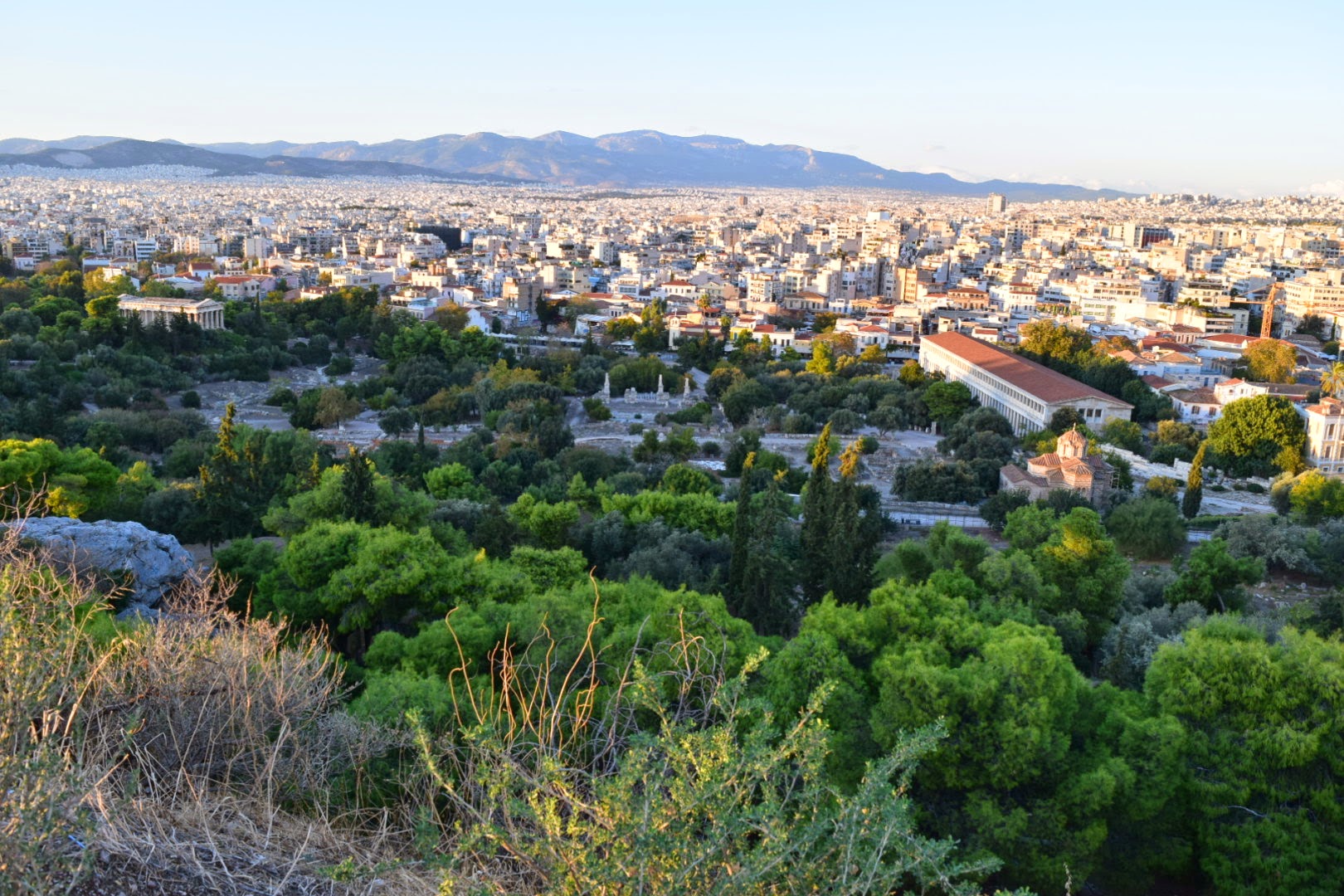 For all its unfathomable history, Athens is a city made approachable by its celebration of humanity's simplest pleasures.
Plump, briny olives and strong coffee.  Gushing rain and twinkling sun.
New feline friends on brisk walks.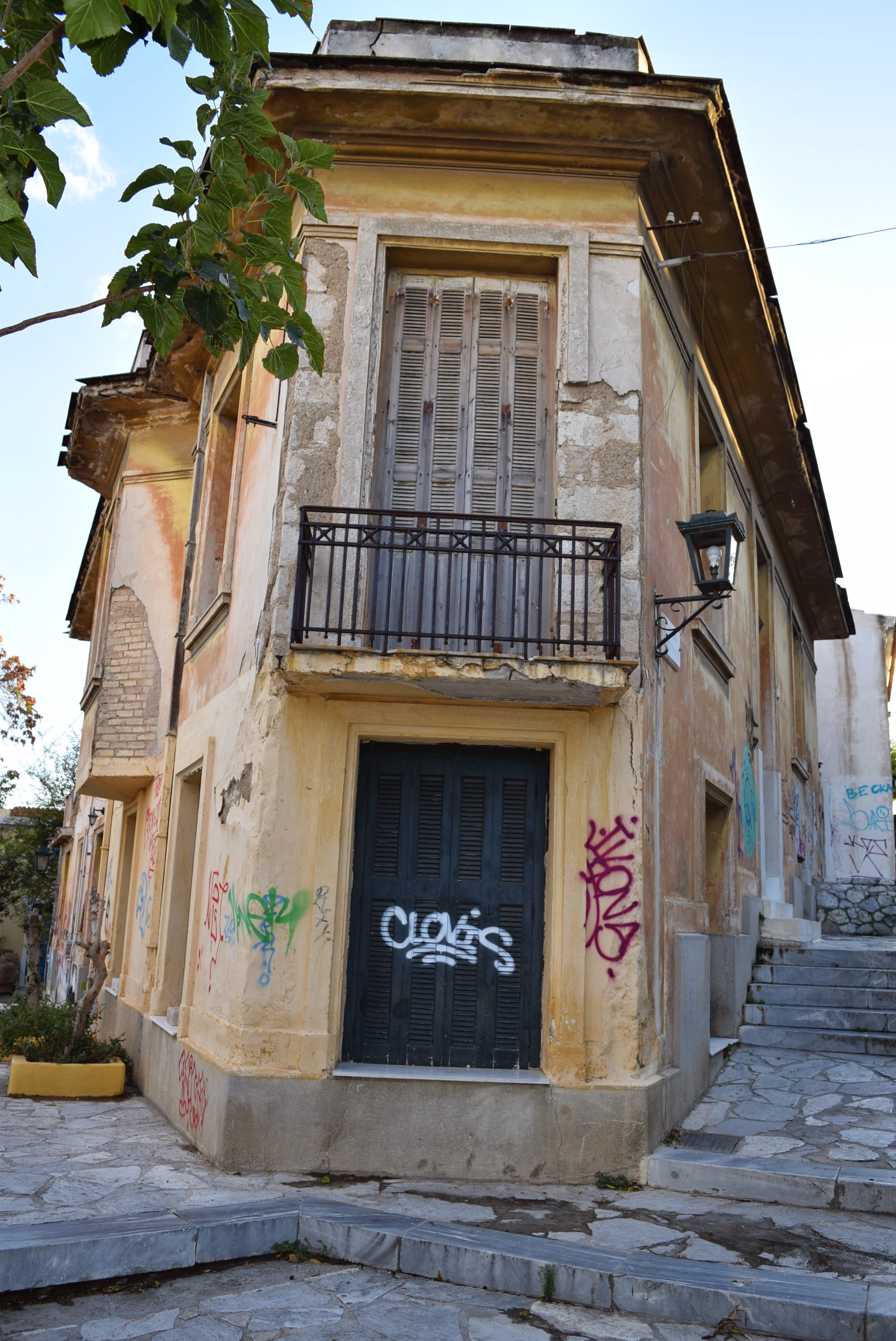 Getting lost is sometimes the loveliest way to find yourself exactly where you were meant to be.
**I'm pretty sure I made this clear, but Big Olive Walking Tours sponsored the food tour. Because I'm far too opinionated to be bought by food (even really good food), all opinions were clearly mine. Just so's we"re clear.**
**Also- because one footnote simply isn't enough these days- I'm traveling light on my current 3 Month Adventure (read: sans laptop) and have had a heckuva time trying to update blog posts on the road. If posts are sporadic, it's not because I don't love you. It's because I lack the Tech Gene the rest of my generation takes for granted and am sweating over how to make a website from a phone, in another continent. That is all.**
Spend Your Days in Athens:
My absolute favorite stop on the Big Olive food tour was Feyrouz Lahmajoun (where Aiolou & Karori Sts meet), a tiny neighborhood Turkish-Lebanese-Greek establishment. The young owner treated us to rosewater and cardamom infused tea and lahmacun (flaky pastry boats heaving with various toppings) fresh from the oven. And then, to the tunes of the great Lebanese singer Feyrouz,  the owner's mother (also named Feyrouz) emerged from the basement covered in a light dusting of flour that, in my rose-infused ecstasy, looked a little like a halo.
My point being: you should be eating here. Make your way to the pedestrian-only Aiolou St and then ask locals for help in finding the magic. Bonus points for eating your steamy lahcumun in between parked Vespas in the cobblestoned alley. It's what Socrates would've done, I'm sure of it.
You should definitely consider one of Big Olive Walking Tours' excursions. Our guides were patient (reeeally patient), the tour was infused with bits of history and architecture, and the food we ate was divine. Walking + otherwise-hidden-neighborhood-food-gems. That's really all you need to know.
Want More?