My favorite ways to explore a new place are (1) to eat my way through it, and (2) to wander its streets in a rambling and intimate city tour… usually in search of more food.
Day #11,532:
When I lived in Manhattan, Stumptown Coffee Roasters had taken over the city, and New Yorkers were rapidly attempting to claim it as their own.
Whatever New York chooses to believe, Stumptown legitimately belongs to Portland, and it seemed only right to make a pilgrimage to its original location downtown.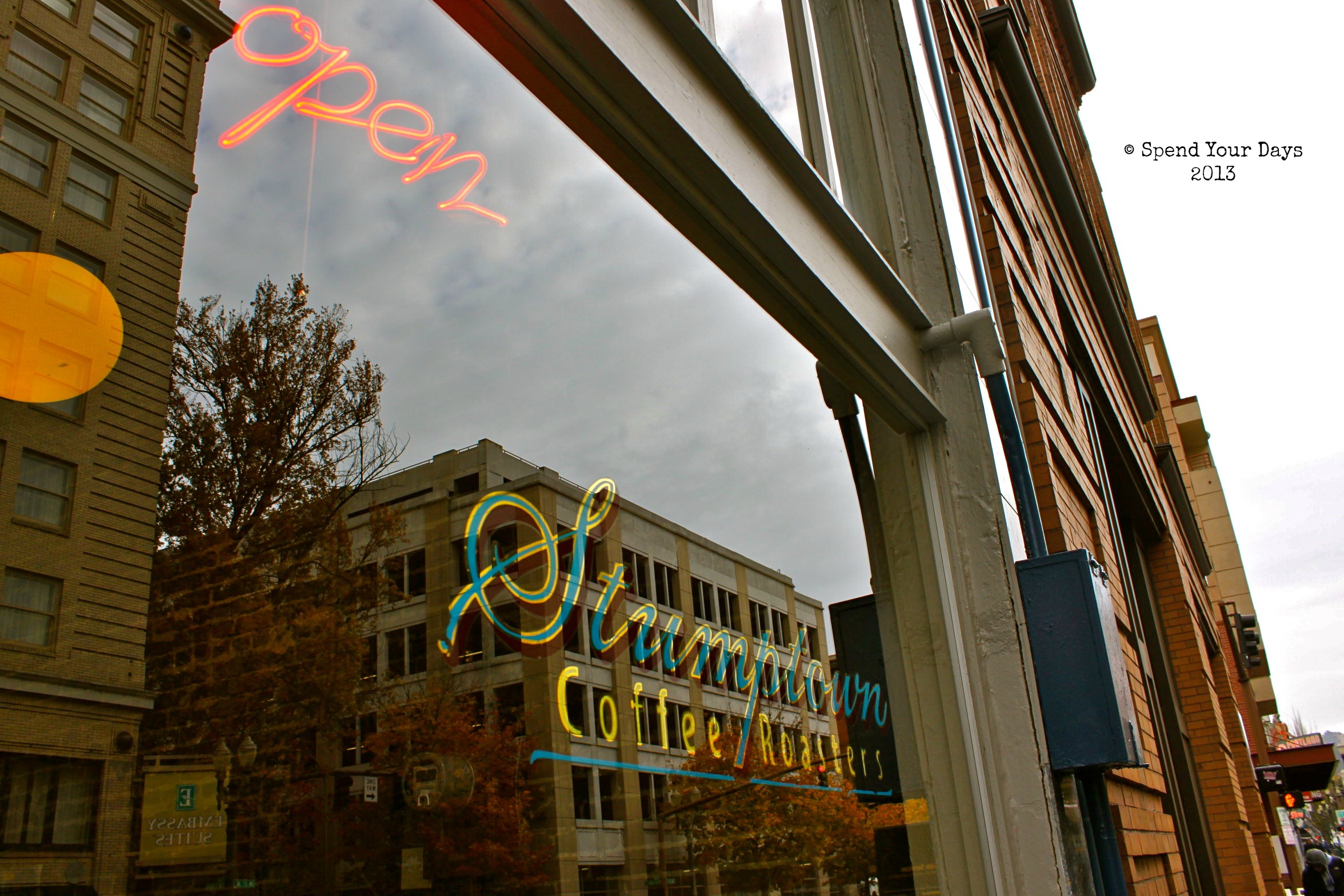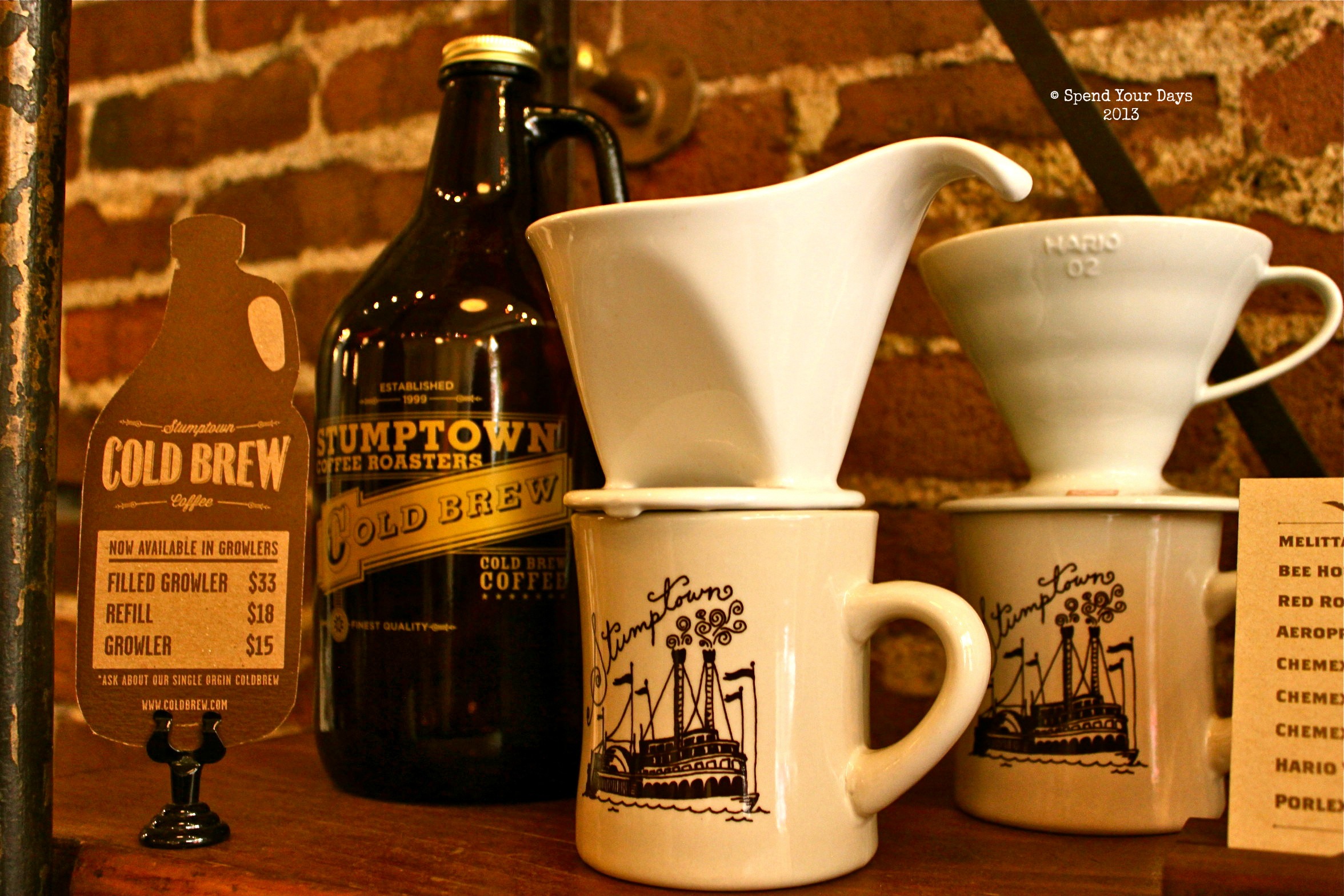 Immediately up the street from Stumptown is the tourist mecca Voodoo Doughnut (22 SW 3rd Ave), originally home to the world's first Pepto-Bismol flavored breakfast pastry.  While that deep-fried gem (and its hideous cousin, the Nyquil-dusted crueller) were both banned by the health department, Voodoo still churns out donuts with personality, 24 hrs a day.
And perform legal wedding ceremonies.  In case you were wondering.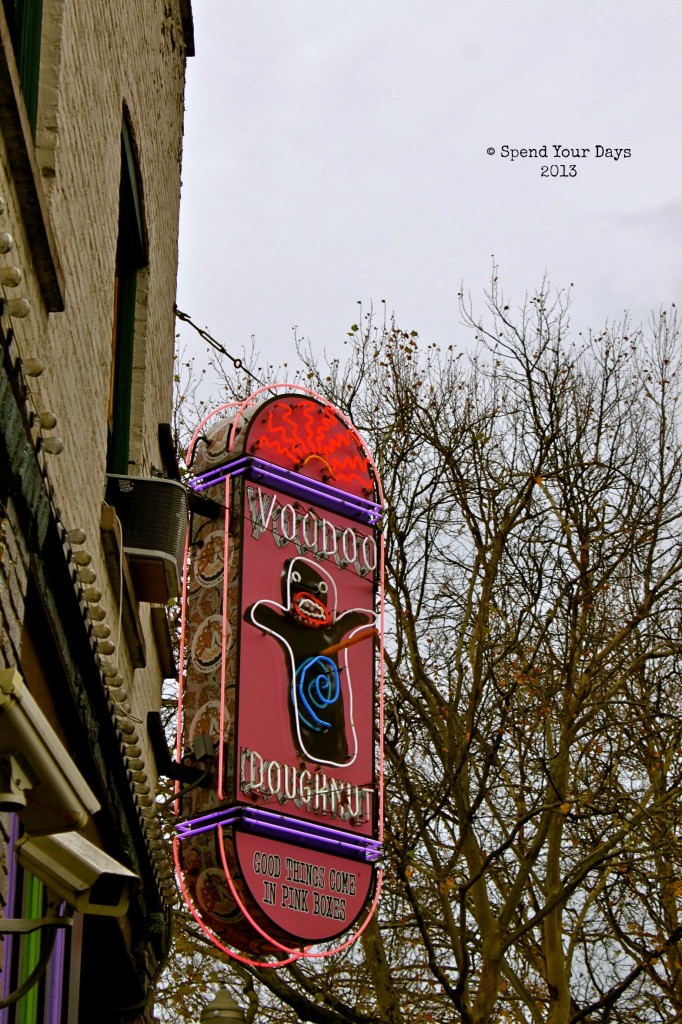 Even at 10 in the morning, the line wrapped around the block with folks eager to get their Ol' Dirty Bastards (Oreos, peanut butter, & chocolate) & Tangfastics (vanilla dusted with Orange Tang).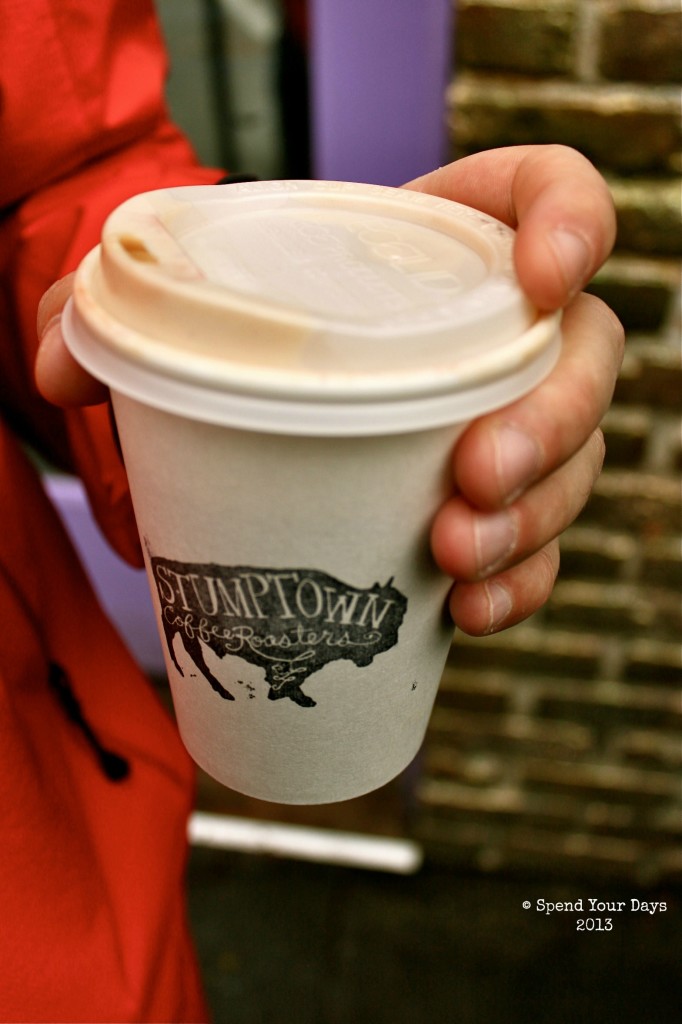 By the time we made it inside 15 minutes later, Mr. M & I had our donut wishlist locked in.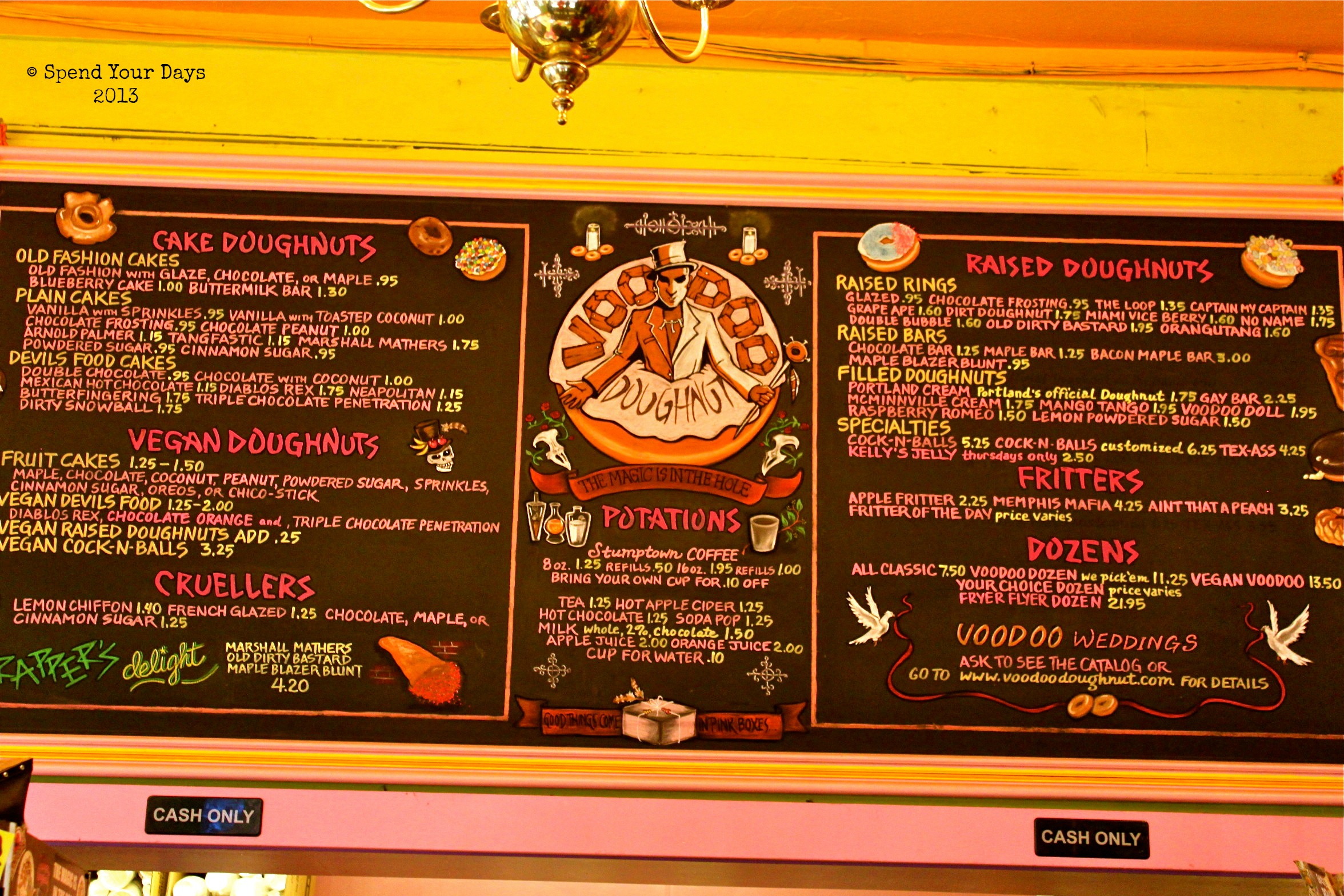 Final Draft Picks: the classic Voodoo doll donut, a maple-bacon bar, a Diablo Rex with vanilla pentagram, an Arnold Palmer (he ended up being the tastiest of the bunch), and a Captain My Captain cereal-coated creation.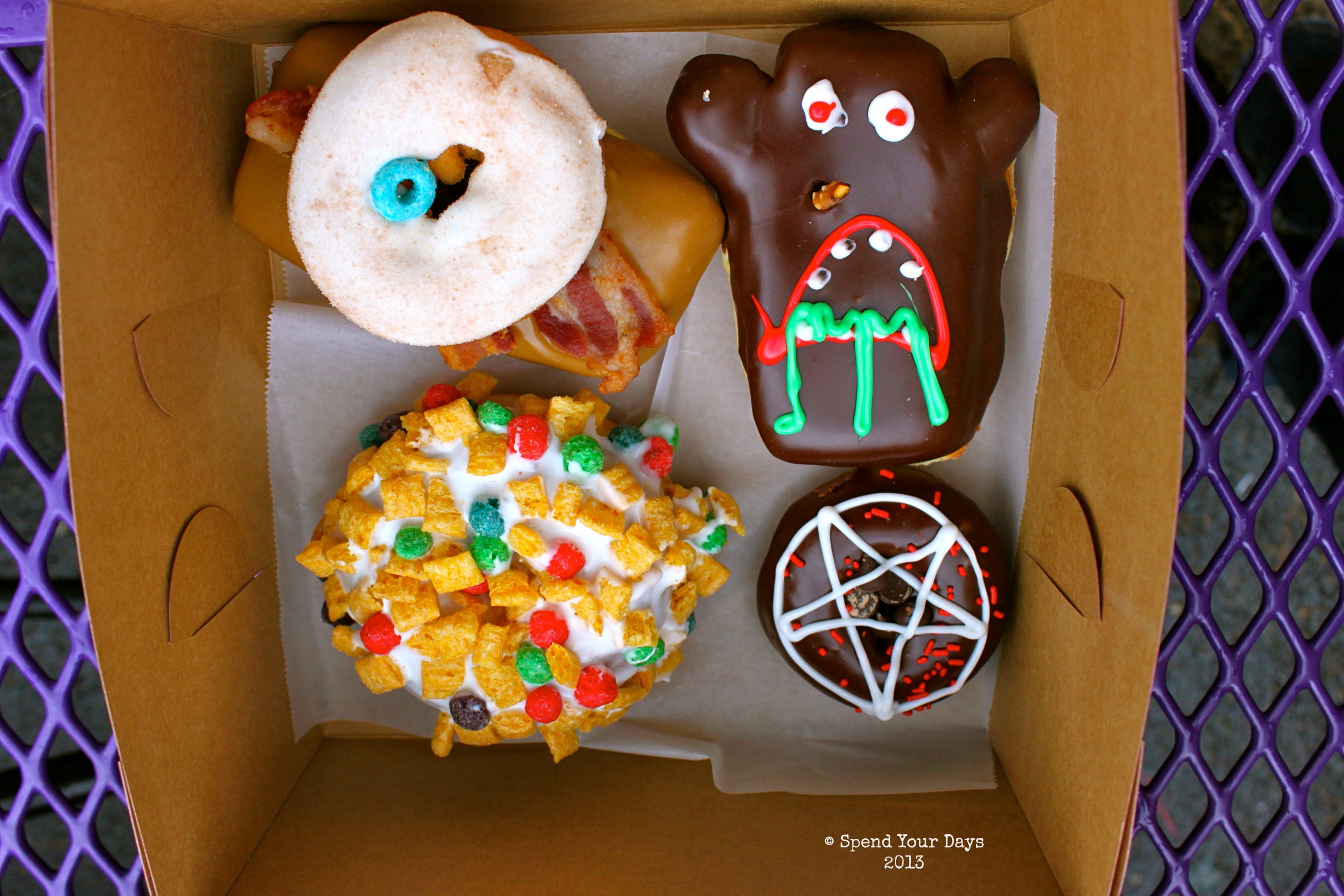 Voodoo is a must-do at some point during your Portland stay, but… like a super hot girl who never had to work on her conversational skills, our assortment was easy on the eyes and sadly lacking substance.  Other than their stellar appearance (totally worth the price & wait in line), the donuts themselves were dry & lackluster.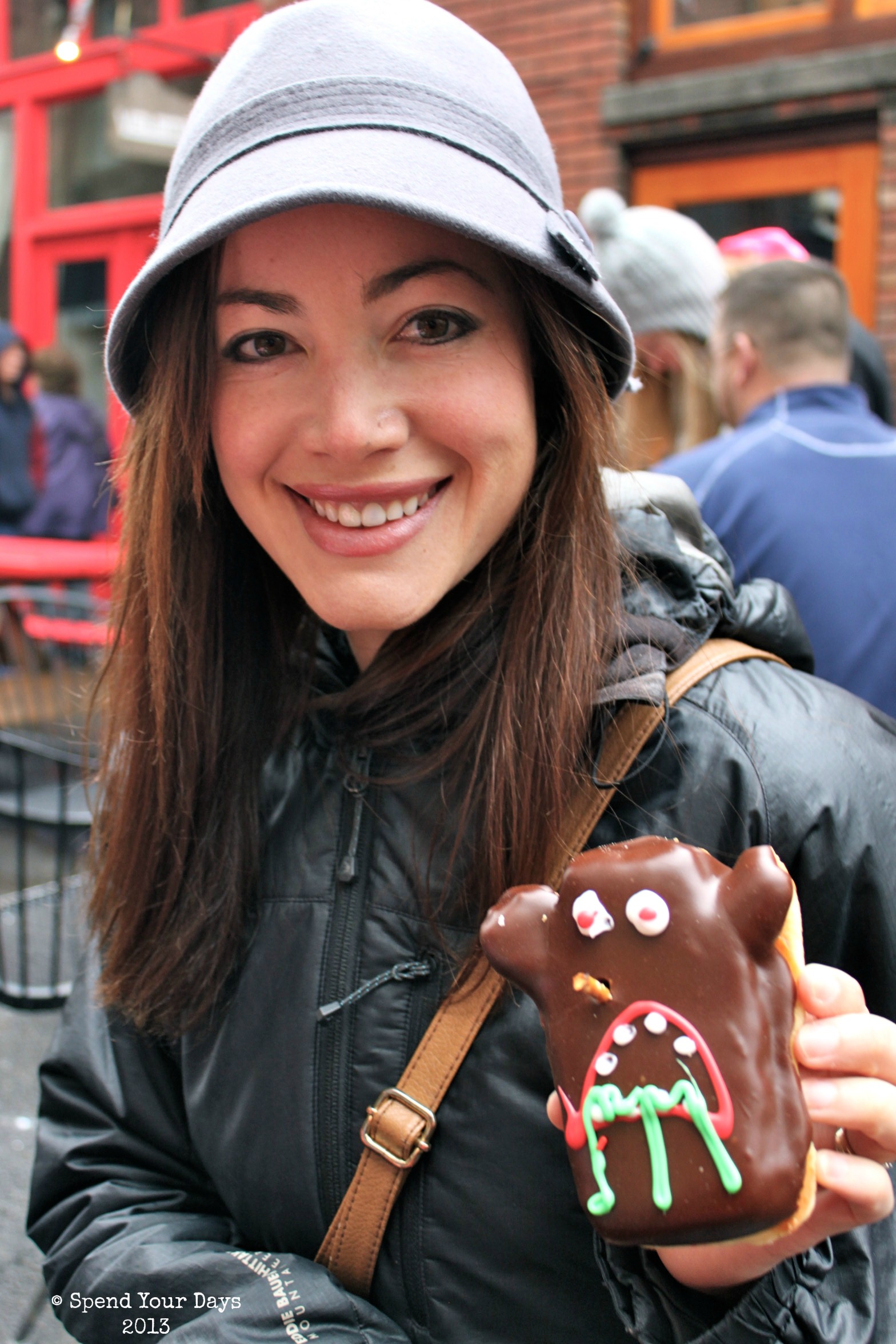 One crumb shy of The Diabeetus, Mr. M & I decided to walk it off at Powell's (1005 W Burnside St), the world's largest independent bookstore.
By my scientific calculations it is completely possible to "walk off" 3,000 calories of donut.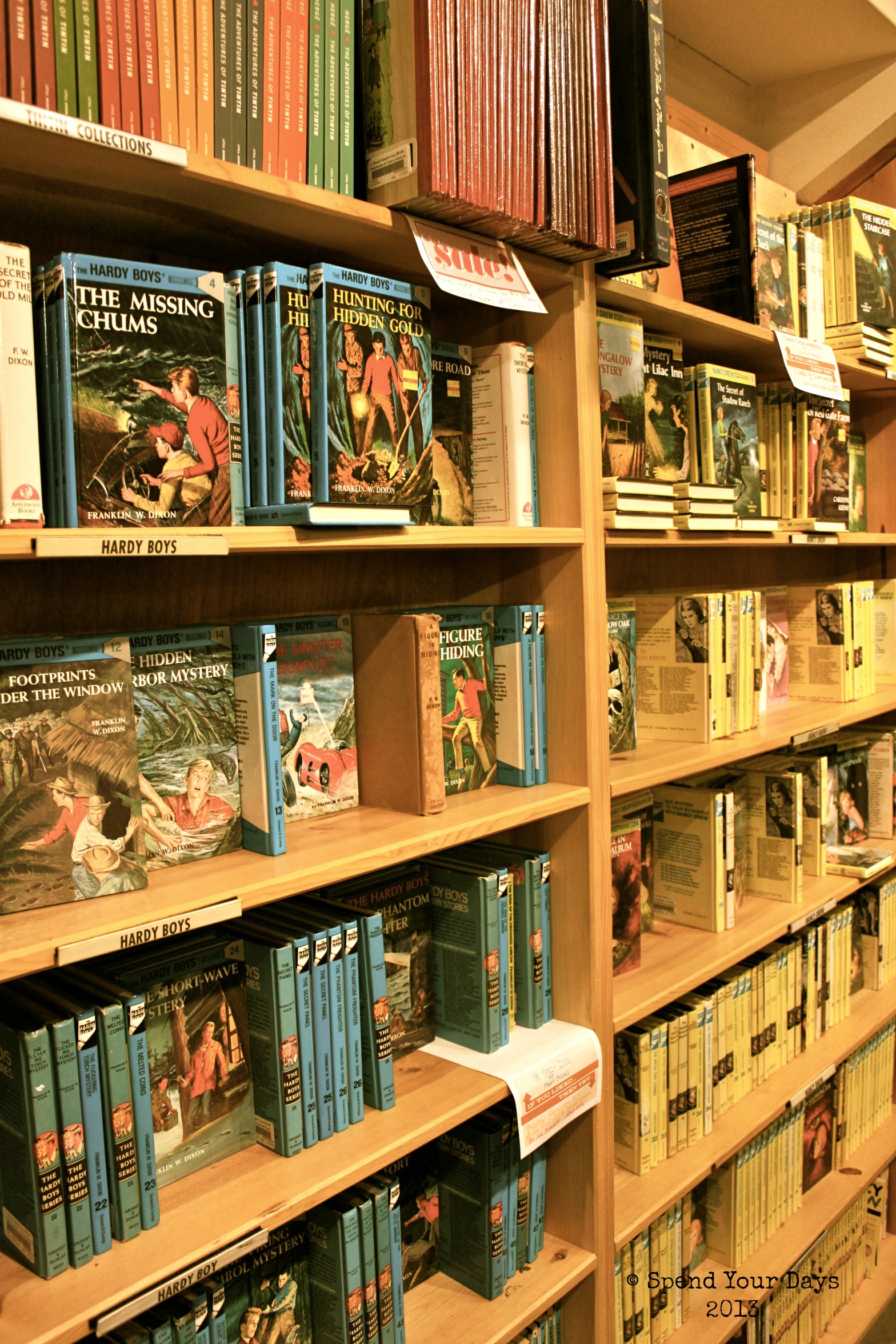 Unsurprisingly, I could've spent All. Day. Long in Powell's.  There were fold-out maps available upon entering so that we wouldn't get lost.  There was a whole SECTION dedicated to bicycling (eee!).  Coloring books… Urban Planning for Dummies… a pictorial history of mankind's scientific inventions…  Mr. M even found an aisle filled with Exam Study Guides, where we tried to determine whether or not we had what it took to become police sergeants.  (Answer: a firm 'No.')
While I could've easily moved to Powell's and had my mail delivered to the self-made Paperback Fort in the journals & diaries room, we wanted to check out Portland's Northwest district, home to one of my must-try food carts, and lunch.
There was plenty of window-shopping to do in the boutique-laden Northwest district, but I had my eye on PBJ's (919 NW 23rd St).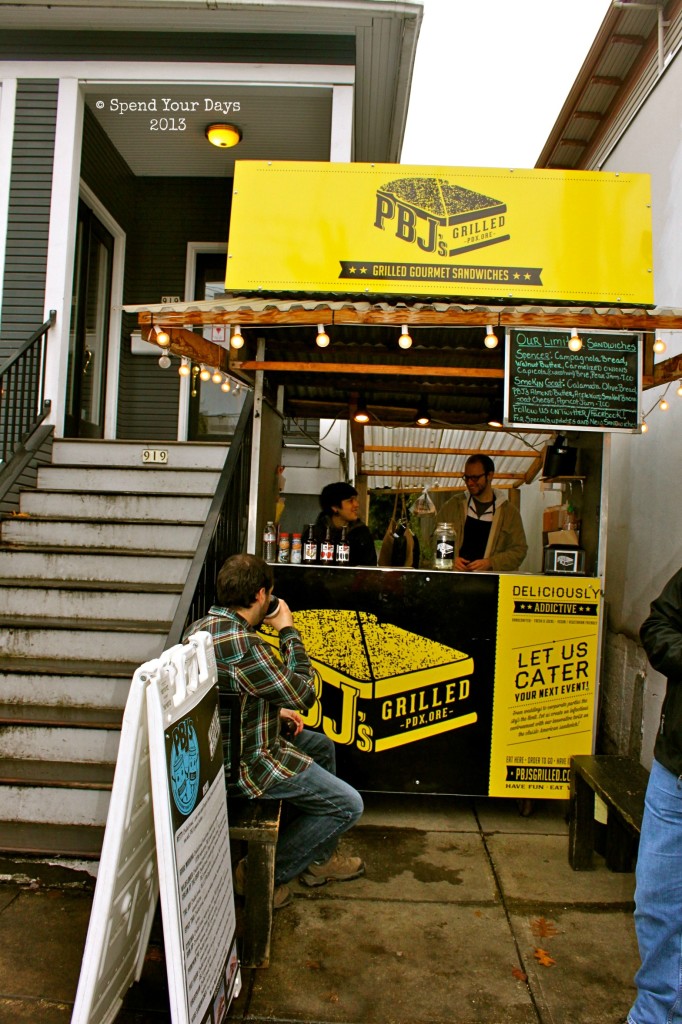 I went with a meat-free (possibly spit in) Spencer with house-made walnut butter, melty brie, carmelized onions, and a perfectly light pear jam. Oh my GOODNESS, do this. No matter how full you are.  Do. This.  Mr. M still talks about the legendary yumminess of his Smoking Goat with almond butter, bacon, & apricot jam on olive bread.
[Imagine a picture of said sandwich HERE, which is where it would've been had I not inhaled mine before making it say 'cheese.' Or 'peanut butter.']
Food carts are a Portlandian Thing.  Smaller than a food truck but bigger than the hand-pushed carts that I used to see around San Francisco's Mission District, Portland's Food Carts tend to be clustered together in different pods around the city.  Creating an ideal "cart crawl" smorgasbord scenario, if you were so inclined.  For more info & a map of the pods, visit www.foodcartsportland.com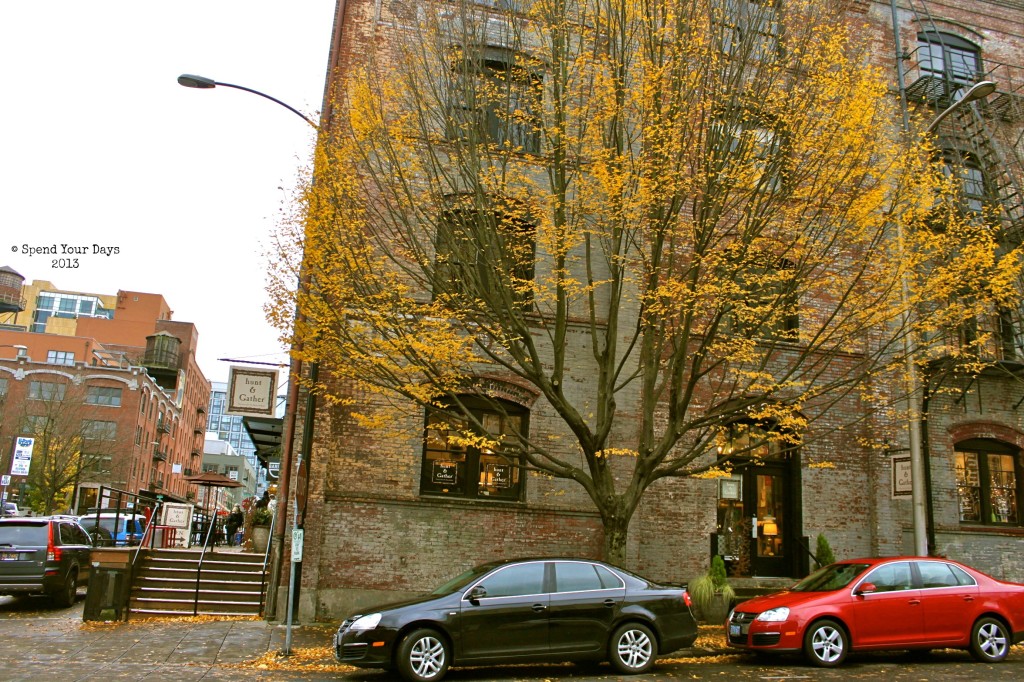 Like a caterpillar munching his way across a leaf, my journeys necessitate snacking my way through the land.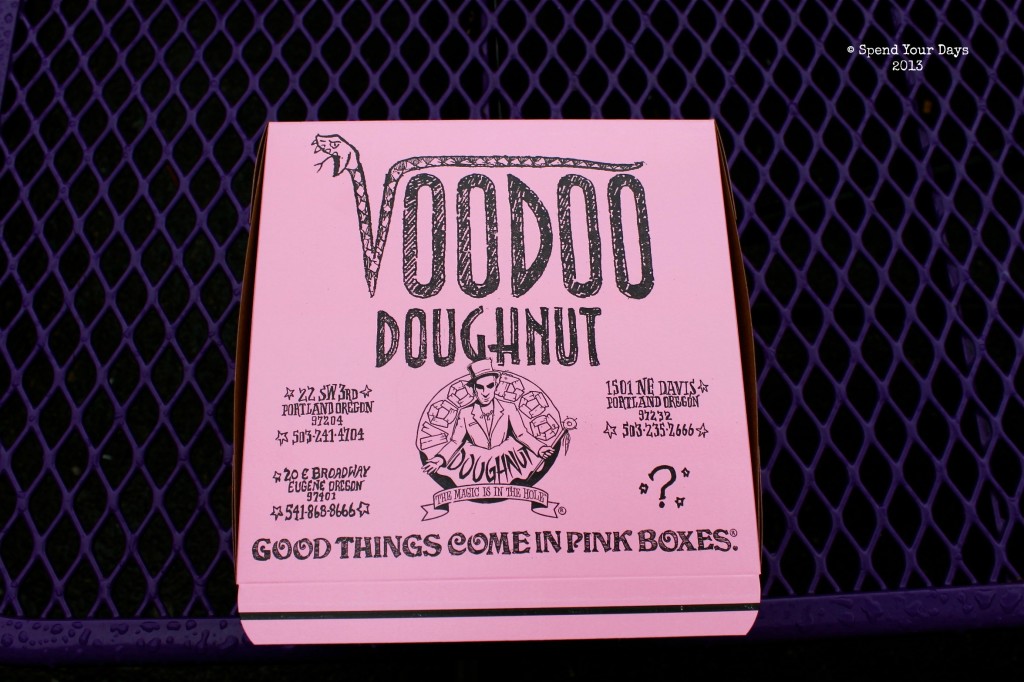 And I'm not sure it's as capricious a choice as it seems- food is so inextricably tied to culture, tradition, and history that eating imparts a deep sense of understanding of place.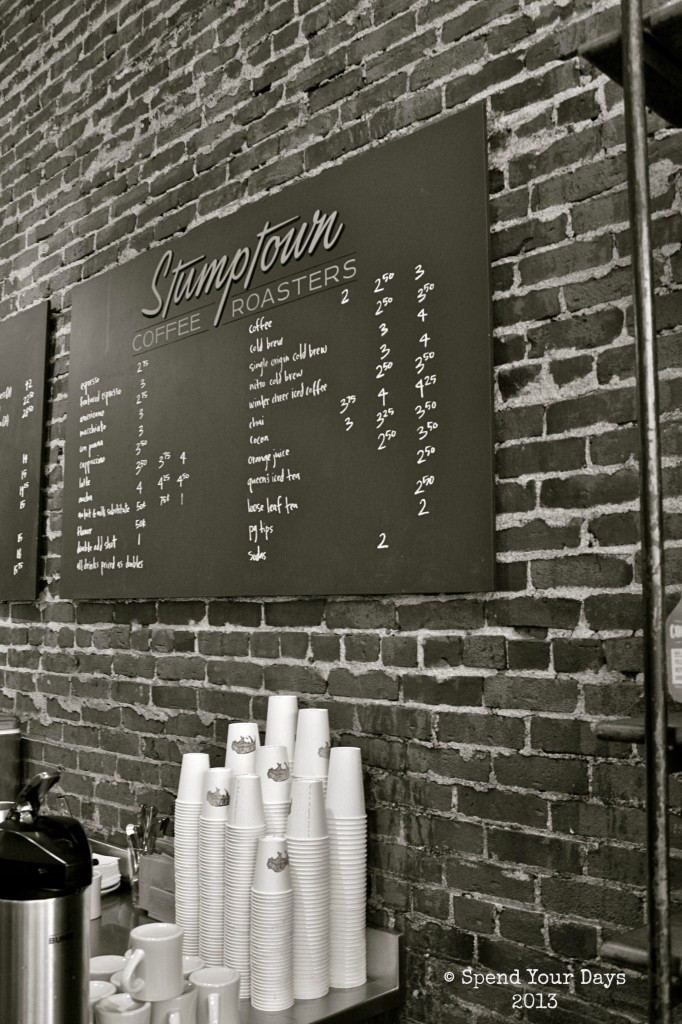 So tell me- what food is your hometown known for?  Is it worth the hype?

Explore yesterday's adventures doing Portland without adult supervision…
Details of the Day: We didn't stop at lunch, but the bulk of my pictures somehow did.  Mr. M & I tried out The Picnic House in downtown Portland (723 SW Salmon St).  Housed inside the an old hotel lobby from the 1940's, Picnic House was hipster perfection, right down to its 'monocled bear with bowler hat' mascot.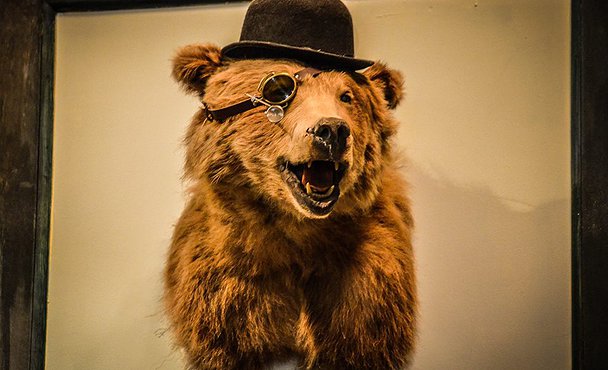 The cocktails in particular were superb, and Mr. M felt a bit bear-ish himself tearing his way through a flaky cedar planked salmon. Yum.
Want More?