If you've been following my Twitter feed as of late, you might know that I'm currently in frosty NYC!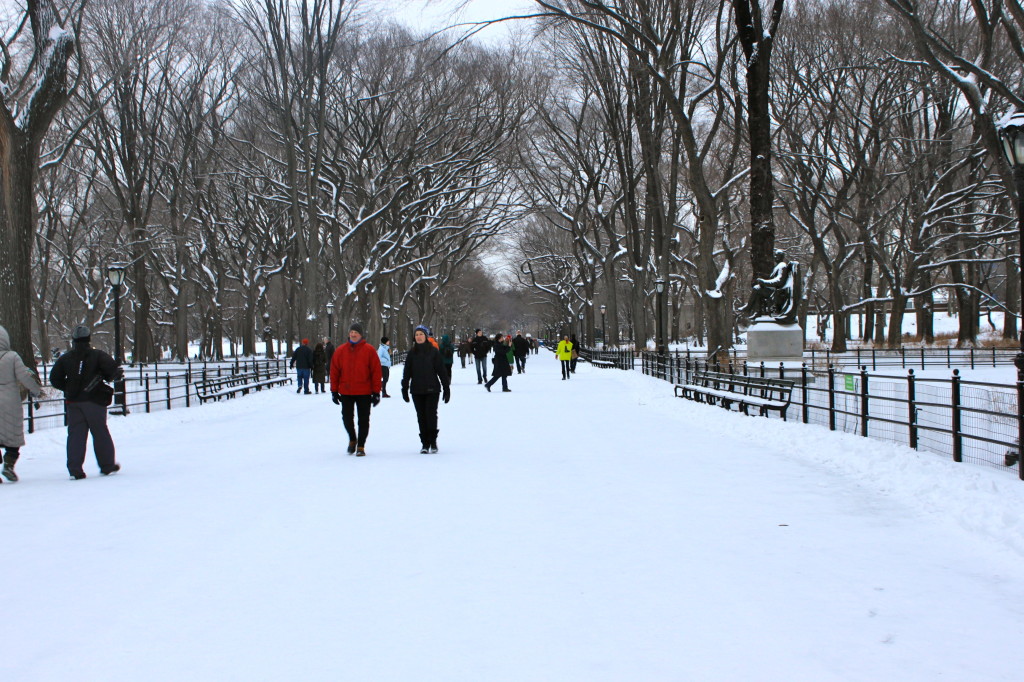 To be honest, I wasn't sure how it would feel to be back in my newly-made-old hometown.  Would we slo-mo run towards one another across a field of wildflowers while "Chariots of Fire" played in the background?  Or would it be more like awkwardly running into an ex and immediately feeling the need to justify my new life ("I've met a fantastic city who's all sunshine all the time, and we're doing great")?
[I'm hoping no one realizes this high school sweetheart has zero clue what it feels like to run into an ex. Please, no one comment on that bit.]
Well, spoiler alert, it's been undeniably lovely.  And a huge part of the reason has to do with where we're staying.
Day #11,545: I purposely planned my trip to facilitate reconnecting with my old neighborhood near Soho, Nolita, and Little Italy downtown.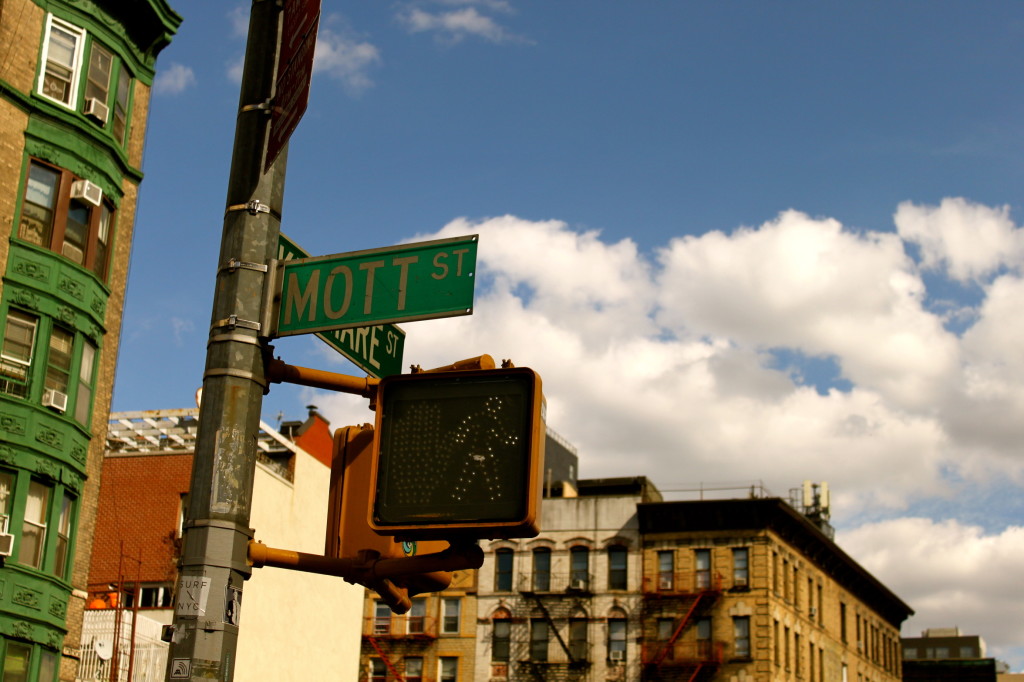 I used airbnb to rent a local apartment juuust around the corner from our old apartment building.  (Their stoop was one of Charlie Mae the Wonderpup's favorite spots to pee.  Smart beast was marking our territory in advance!)
I was particularly excited about doing airbnb in NYC because we honestly didn't have the most typical New York apartment.  Historic and really cool?  Yes.  Classic NYC experience?  No.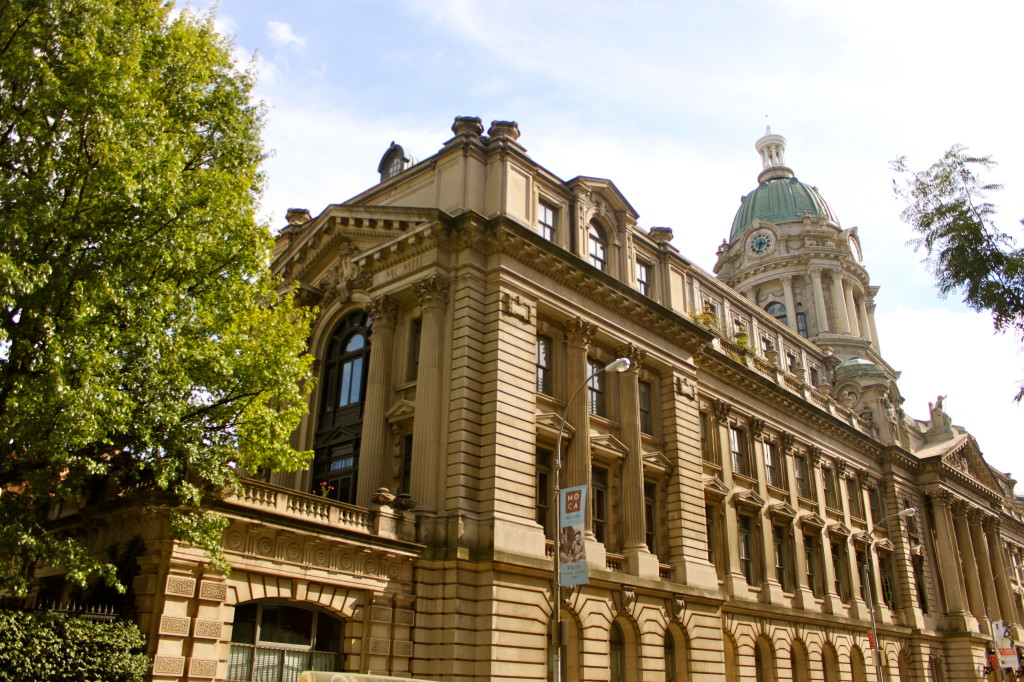 I wanted to have that classic Manhattan experience, and our airbnb apartment has been perfect.  I thought it might be interesting for those of you not familiar with the city to get a peek into typical downtown digs.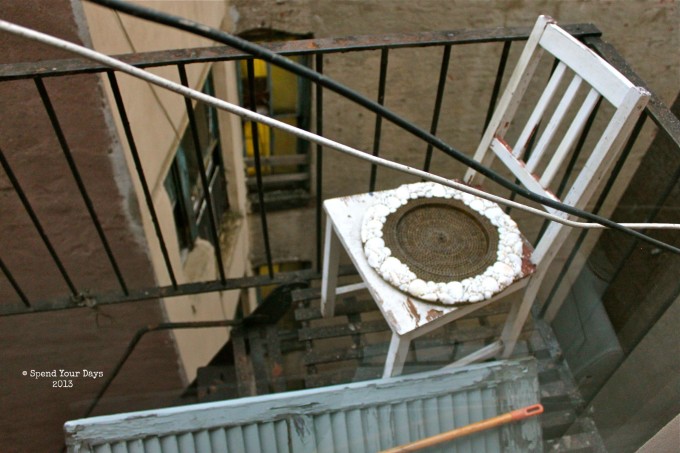 Case in point: it's a sixth floor walk-up.  SIXTH FLOOR.  That's legit, even for NYC natives.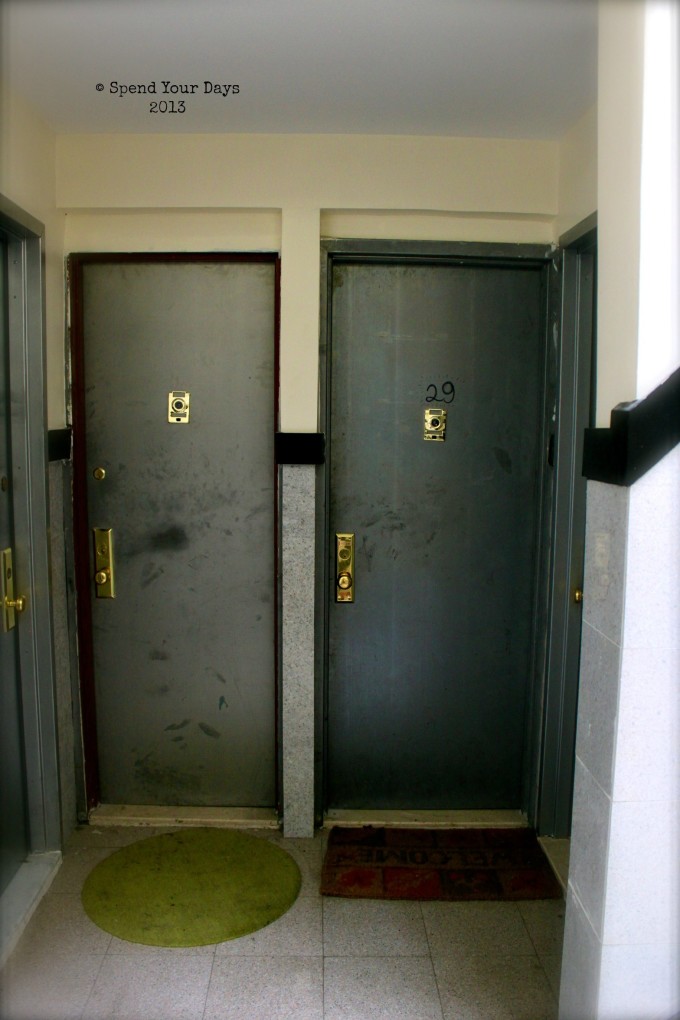 Our temporary corner of Manhattan has also provided us with a greater appreciation for the space management skills required by most downtown dwellers.
With an electric kettle, a few plates, and a sink, the kitchen is perfect for our needs… but I'd honestly have a tough time cooking dinner without counter space.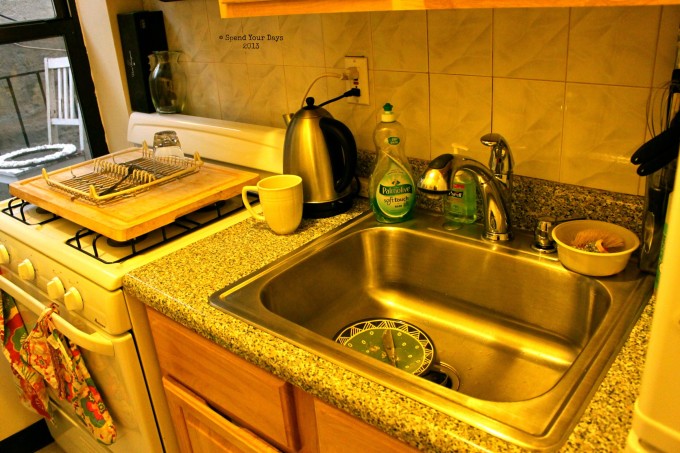 Because Mr. M & I didn't return to NYC to eat my bad cooking, the fact that our apartment doesn't have room for a kitchen table (any table, actually!) matters none.  And honestly, the lack of space is typical for many downtown apartments.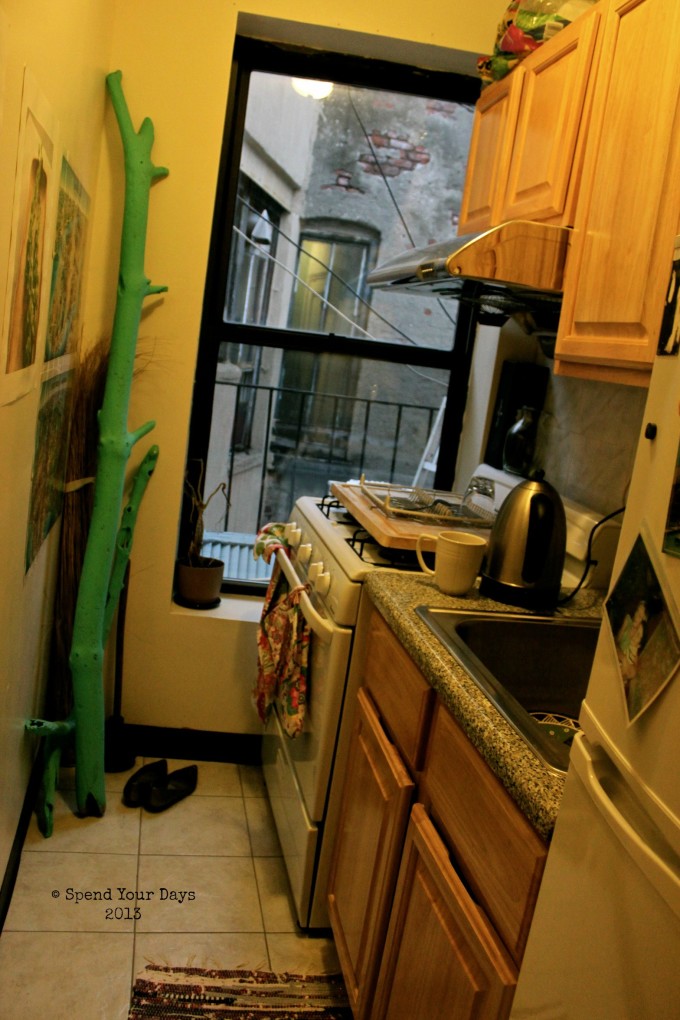 That Sex in the City quip about using your oven for sweater storage isn't too far off base- New York is a city of foodies who eat out.
Our temporary one-bed apartment is of decent size compared with many in this area.  This bedroom would likely be marketed as able to fit a king-size bed.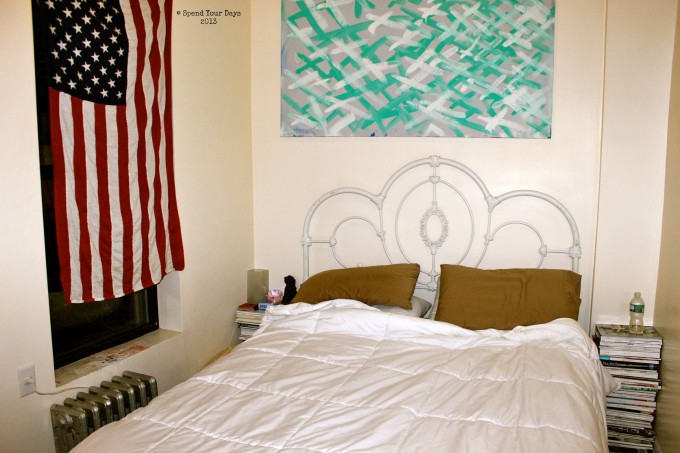 Mr. M & I learned this the hard way when we were first looking for apartments that could fit our California King- just because it fits does NOT mean there'll be room to walk around the bed after it's in!
Clothes storage has to happen elsewhere (hello, oven).  And being good at Tetris is a major plus.
Many of the homes in this part of the city are converted tenements, and some apartments still have only a small air-shaft in between neighboring buildings.
Living like a local offers a whole new level of insight into a place.  If travel is really about understanding different ways of life, what could be better than going all in?
Unlike a sterile hotel room that's obsessively cleaned and turned down every day, our borrowed apartment feels warm and cozy and lived in…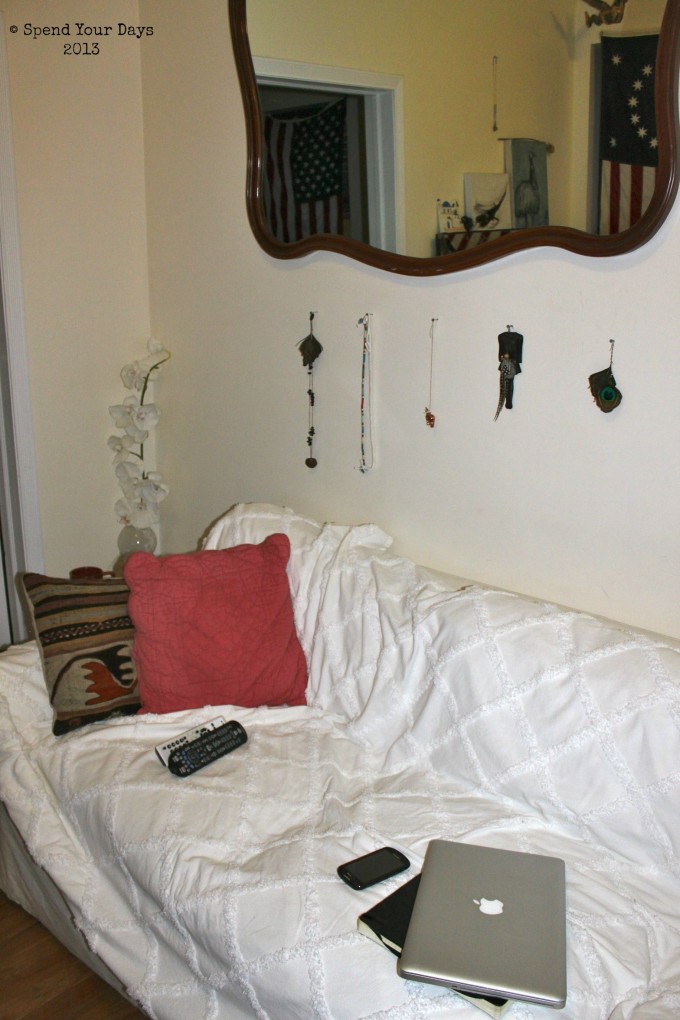 Revisiting this place with which I was once so intimate has been unexpectedly effortless: no over-the-top exuberance, no awkwardness… our relationship exists in the comfortable in between.
Returning to the exact same neighborhood, I couldn't have predicted that a simple change of address would allow me to experience a whole new side of my city.
Then again, if there's one thing NYC isn't– it's monotonous.
Details of the Day: When describing our digs to peeps at Mr. M's holiday party this Friday evening, a surprising number of folks hadn't heard of airbnb!
Just in case you're one of em, airbnb allows you to rent someone's unused apartment rather than staying in a sterile hotel.  Choose your location, whether you want to rent a room or a whole apt/home, and the features that are important to you (wifi, laundry facilities, certain # of bedrooms), and voila!  You've got a home away from home!
I've similarly used vrbo and flipkey (which is associated with TripAdvisor) to book apartments while traveling.  Having a house of your own is a really fun and economical option when traveling with a group or staying somewhere for a longer stretch of time.
Want More?