Okay.  My Machu Picchu Fantasy circa 2008 played out something like this: I trudge the famous 4-day Inka Trail armed only with grizzled walking stick and roll of TP, and summit the Intipunku Sun Gate just in time to watch the sun rise as a majestic crown atop Machu Picchu.  [Please note: in this fantasy my hair rivals Kate Middleton's, "Eye of the Tiger" plays in the background, and only the view- not the dizzying altitude of 13,780 feet- has made me breathless. Maintain the fantasy.]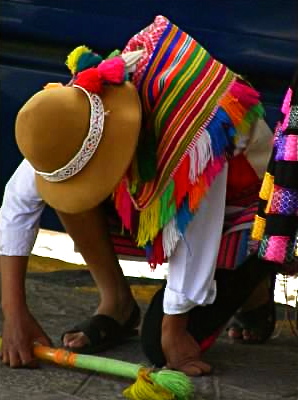 A month before leaving for the Galapagos archipelago– with no plans in sight to enact my Machu Picchu fantasy- Mr. M & I had the opportunity to add on a free extension trip to Peru (long story short, this Major Win stemmed out of originally being forced to reschedule our Ecuador travels).  But… the fixed itinerary didn't allow us to hike the Inka Trail.
As much as I loved the fantasy, girlfriend's not stupid.  Besides, "Eye of the Tiger" is overplayed, anyway.
Day #10,004: Instead of my usual self-planned travel, swashbuckling my way through the Peruvian Andes with a compass, a machete, and substantially bouncier, glossier hair than I have in real life, Mr. M & I found ourselves part of a tour.
After a twenty minute drive from Cusco to the town of Poroy, our tour group boarded the Orient Express's Hiram Bingham train.  Considering that my original Fantasy Journey involved crusty hiking boots and dig-my-own toilets, journeying to Machu Picchu in gleaming luxury wasn't an instantaneous plus.
But I decided to sit back and enjoy this gifted chance to take in a bit of opulence.  Honestly, as soon as I was handed a glass of pre-expedition champagne, I was feeling like the fantasy had just morphed into something new.  Something shinier.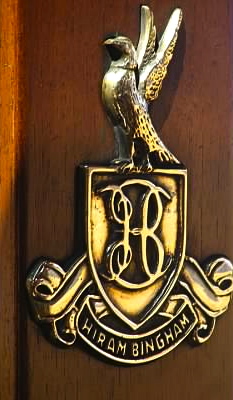 For all my backpacker snobbery ("Uhhh… if it doesn't involve a walking stick, it's not a REAL way to get to Machu Picchu…"), I absolutely adore train travel.  It's such a wonderful opportunity to see countryside that you might otherwise have missed.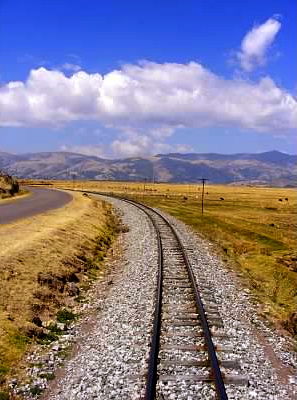 And the Peruvian countryside was gorgeous.  Straight off an Impressionist's canvas.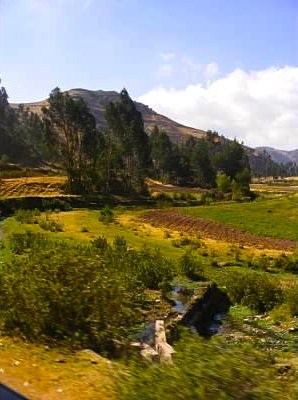 As our train wound its way towards the city of Ollantaytambo, I had my nose pressed against the window, drooling at all this pastoral scenery.  My steamy noseprint on the glass may not have been fitting with the distinct air of luxury that the Orient Express had created.  With its restored 1920's Pullman cars, crisp, white linens; and sparkly table settings, the Hiram Bingham train was undeniably sumptuous.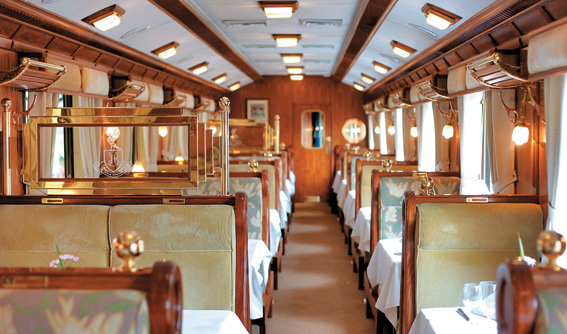 We passed through a couple towns…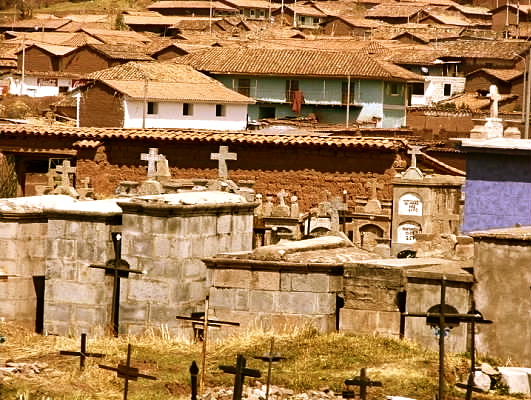 …and saw plenty of folks with the region's next most popular means of transportation.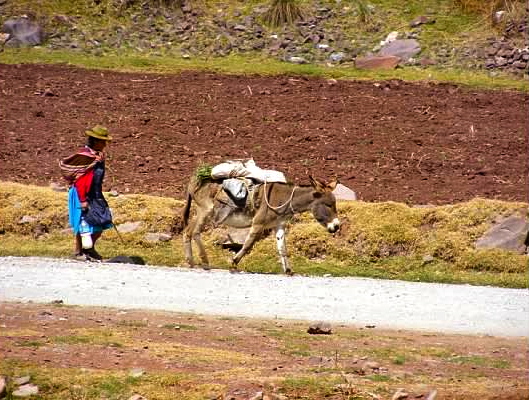 A full meal (either brunch or dinner) is served onboard the Hiram Bingham train, and in between enjoying having the back balcony all to myself for picture-taking, I'd run back to our table and shovel down brunch.  The food was delicious and the presentation was amazingly elegant considering it was all put together in a train galley.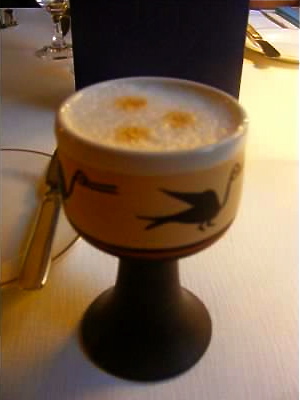 Everybody was full and happy by the time our train started winding up the mountains towards the town of Aguas Calientes.
Soon enough, the tracks scooted alongside the Urubamba River, and I got my first view of the beginning of The Trail That Wasn't To Be.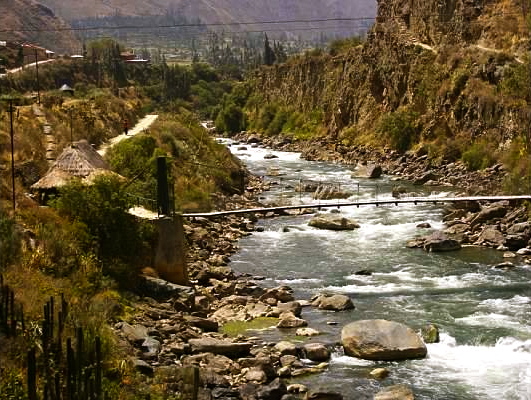 As the train ascended, the scenery changed rather dramatically.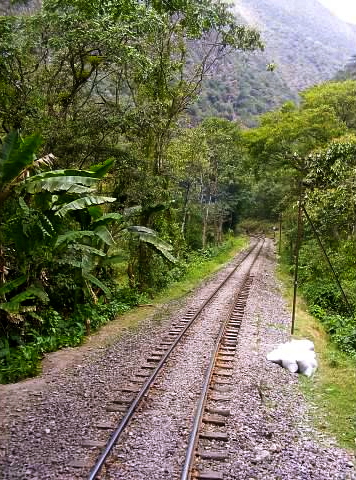 As we trudged higher and higher, our guide told us to keep an eye out for spectacled bears, which live in areas of high elevation in South America.  I really wanted to see one in the wild, but The Universe decided I'd had more than my fair share of good luck already (what with the free trip to MP and all).
The final stop on the Hiram Bingham railway is the city of Aguas Calientes.  In fact, if you'll be staying overnight anywhere other than the insanely expensive Machu Picchu Sanctuary Lodge, you'll be staying in Aguas Calientes.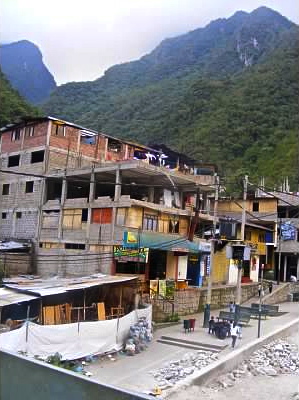 AC is just down the hill from the entrance to Machu Picchu.  And by just down the hill, I mean this:
I got into the bus that would zigzag us up this final peak and immediately buried my face in Mr. M's jacket.  Despite imagining myself as Lara Croft, Tomb Raider in my travel fantasies, Real Me does not do well with heights or death-defying hairpin turns or, let's face it, buses.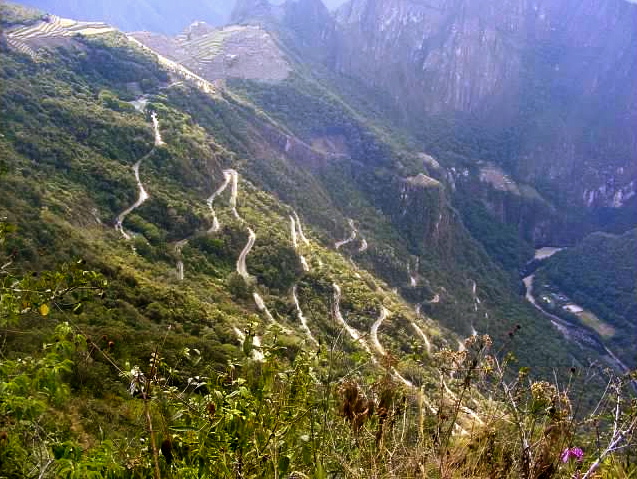 The one time I did look up, I saw sheer drop-off on the right and another bus headed RIGHT for us with zero passing room.  I shouted an impressive obscenity and must've returned to the safety of Mr. M's armpit or blacked out, as I have no idea how we emerged at the entrance to Machu Picchu.  [Our touring companions urged me to "stay down" on the bus trip down.]
But an ancient wonder of such magnitude had to come with a little bit of adventure.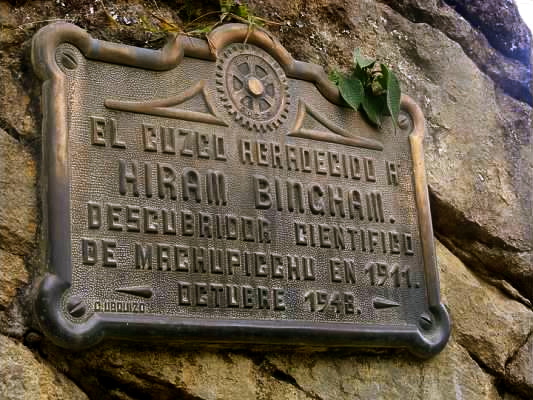 Besides, once we passed into the park, it was clear: a terrifying bus ride was no match for the awe-inspiring wonder of Machu Picchu.
To be continued…
Details of the Day:  I'm so thankful for the crazy-opulent experience Mr. M & I got, but I'd still love to return to do the Inka Trail.   If your own personal Machu Picchu Fantasy includes aperitifs and white glove service, definitely consider the Hiram Bingham!
The Hiram Bingham Train:
PROS:
*It's undeniably fancy-schmancy.  But not so stuffy that you'll feel at all out of place in hiking boots and fleece jackets… that's the name of the game, after all!
     *The all-inclusive food is amazing.  Cocktails at the station, brunch on the way there, afternoon tea, and dinner on the way back means you'll arrive at MP VERRY well-fed and ready to do some serious exploring to work it all off.
*There's live music on the way back, after it's too dark to enjoy the landscape.  Sounds cheesy, but it was really fun.  I may have danced, and it wasn't all the pisco sour's doing.
     *It includes all the extras: the roundtrip bus ticket from Aguas Calientes to Machu Picchu, the entrance ticket, a guided tour of the MP Citadel, and afternoon tea at the Machu Picchu Sanctuary Lodge (although I don't want to meet the person who'd  sacrifice an hour of exploring MP to eat finger sandwiches, Mr. M & I ran inside and grabbed a scone before the death-ride bus trip back).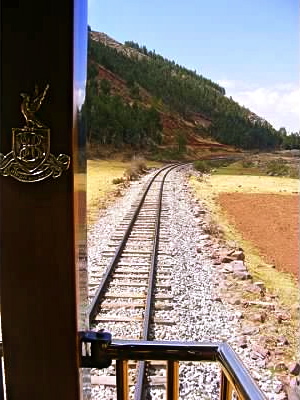 CONS:
*If you're doing Machu Picchu in one day, the Hiram Bingham will only give you max 4 hours at the site (arrival around 12:45pm with bus departure at 4:45pm)
*Unless you're a connoisseur of luxury rail travel (and the Hiram Bingham is definitely one of the so-called World's Greatest Rail Journeys), all that elegance may not be worth the astronomical cost.  Our roundtrip tickets would've cost us each $350.  Or an extra $250 or so if you consider that the entry fee/bus was included.
I was going to do a pros & cons on taking the Hiram Bingham train vs. hiking the Inka Trail… but then I realized that's really not a fair comparison.  Especially when there are many other options in between squatting in a dirt hole and being served a 4-course brunch on monogrammed china.  If you're trying to sort out which 'in the middle' is best for you, read on: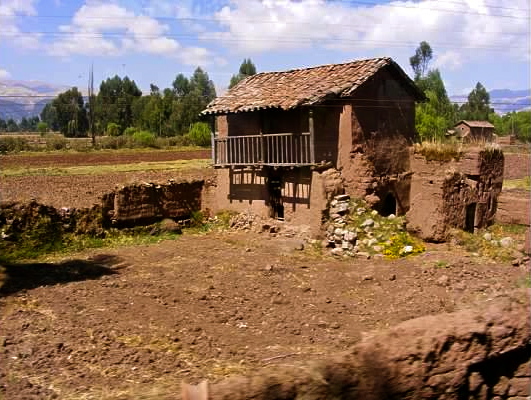 Train Travel: There are three different classes of train travel (each of which constitute their own train, not just cars within the same train), with The Hiram Bingham being on one end of the luxury spectrum.  The Expedition train is the most economical and is absolutely the one I would've booked had I been paying for my own travel.  Totally comfy seats that rival first class on a European rail service.  Don't think twice.  There's also The Vistadome train, which is a little more plush and has panoramic windows in the roof for even better picture-taking.  My personal opinion?  I'd do either the Expedition or the HB… I'm not sure what the extra $$ gets you in the Vistadome.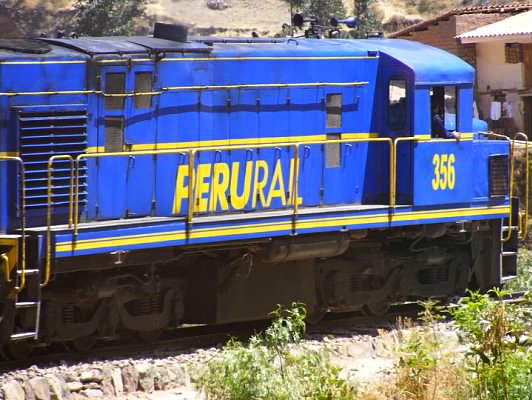 More info on getting to Machu Picchu in the next post!
Want More?