The Casablanca airport does not make a great impression.
Unfortunately, the entry point of all flights from North America is said airport, the domestic terminal of which is highlighted by ominously flickering fluorescent overheads, dotted with 1/6 the number of seats it might've contained, and features an airport lounge with an honest-to-goodness foot of cement rubble on the floor.
Happily, Casablanca wasn't our final destination.
Days #11,578-9: The quickest way to the Moroccan Sahara (keeping in mind that 'quick' is a relative term) is the once daily flight from Casablanca to the desert city of Ouarzazate.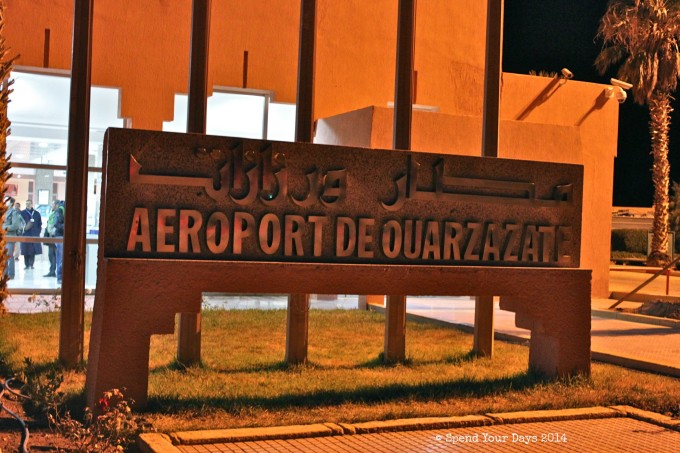 In addition to being a jumping off point into the Sahara, Ouarzazate is the Hollywood of Morocco; Lawrence of Arabia was filmed there in 1962, along with movies Gladiator, The Mummy, and part of the tv show Game of Thrones.
Mr. M found this article showing the ruins of old Star Wars sets existing outside Ouarzazate (seriously, how cool are those pictures?).  If only there'd been more time to explore.
By the time our gang landed in Ouarzazate (Brother B, Sister LP, and Cousin Z having met us in Casablanca), it was close to midnight.
The house manager of our riad met us at the airport, threw all our bags onto the roof of the car (no straps, racks, or ties necessary!  The ease with which seemingly outrageous tasks are accomplished so easily in a foreign country makes me think life sometimes boils down to bravado.  Do or do not- there's no try), and drove us deep into the already dark city.
Our untethered suitcases and us bounced along a gravel road and skidded to a stop in front of a mildly forboding, unlit façade.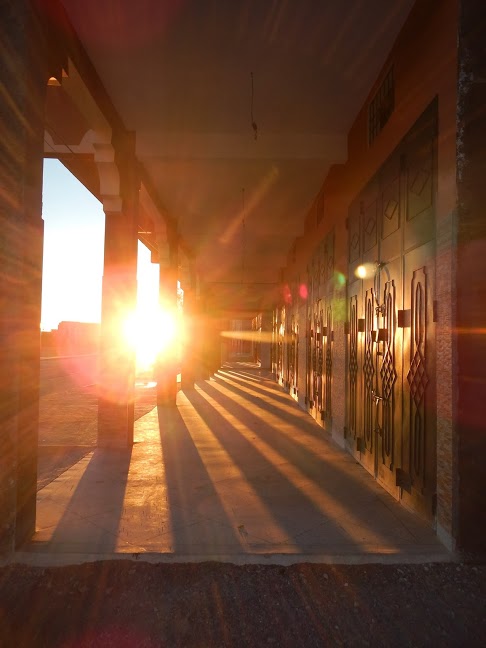 As Official Trip Planner, I began to grow nervous about where exactly I'd arranged for us to spend the night.
It's good to be reminded… don't judge a book by its cover.
The riad in Ouarzazate ended up being gorgeous.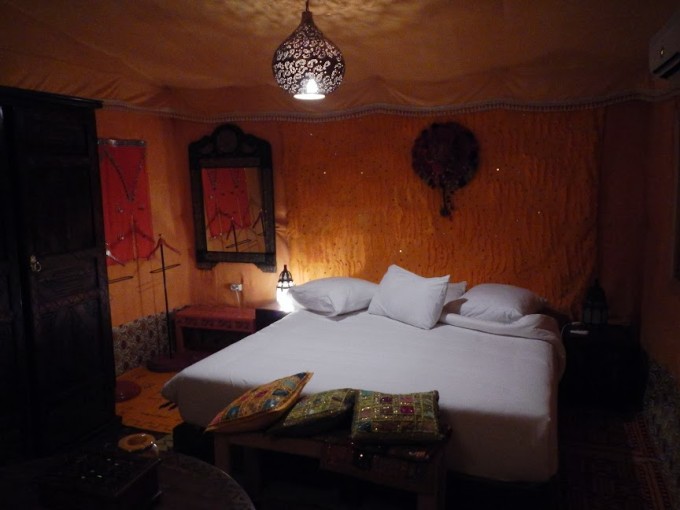 It was close to 1am by the time we got in, and Hassan the House Manager spent a solid half hour taking us through every detail of the accommodations… spritzers of rose water… argan oil**…  freshly squeezed orange juice in the fridge… and almond cakes to enjoy up on the roof terrace.  Hassan described how his friend had even hand-etched the metal cabinet doors in the kitchen.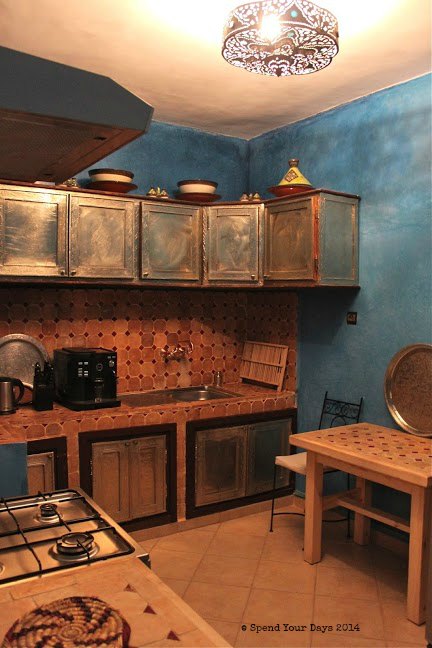 It was the perfect first night in Morocco.
Sadly, there was little time to enjoy, and a mere seven hours later our suitcases were in another car (in the car this time) to drive from Ouarzazate to the town of M'Hamid at the end of the paved road.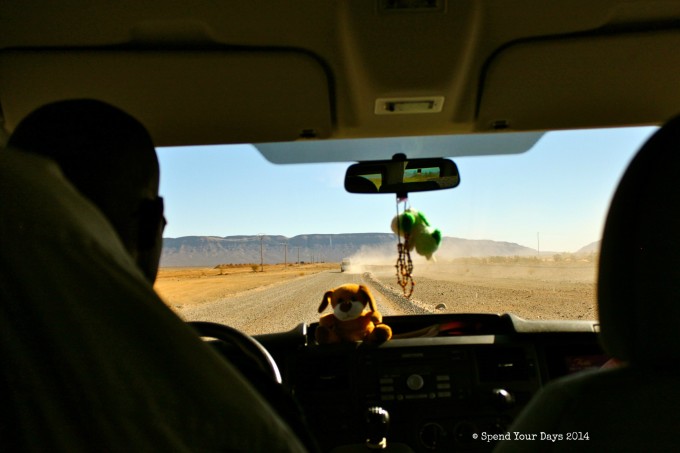 We stopped in M'Hamid for one last essential before heading out into the desert…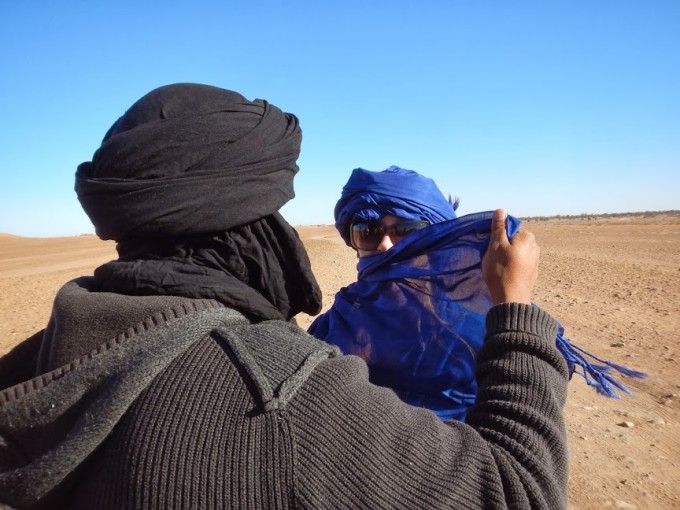 The turbans ended up being perfect for our time in the desert: they keep your head warm, your hair out of the whipping winds, and the blowing sand out of your face.
Because M'Hamid really is the end of the paved road, 4x4s from our desert camp came to pick us up to navigate us into the Saharan sand.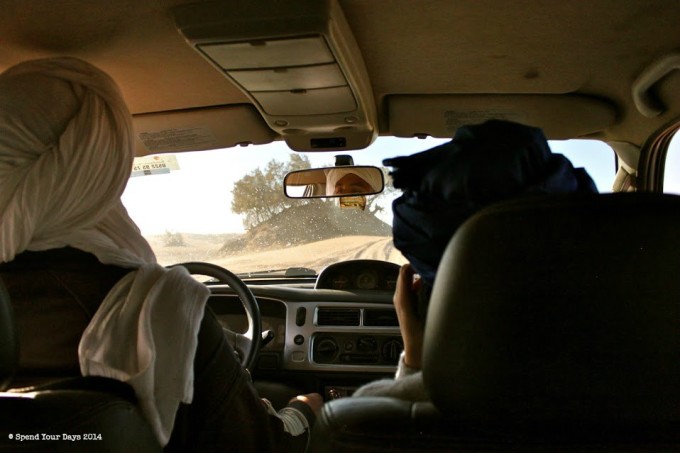 How our drivers found their way, I'll never know.  With zero landmarks, constantly shifting sand dunes, and an hour and a half drive to camp, it's a wonder we didn't end up in the middle of nowhere.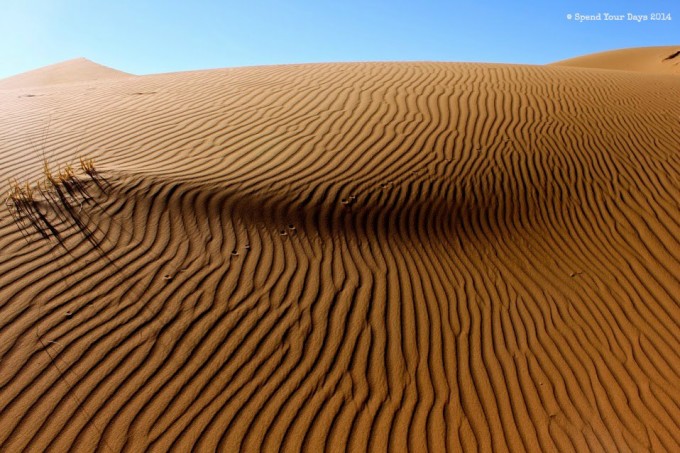 Correction: we did end up in the middle of nowhere, but exactly in the correct spot in the middle of nowhere.  And that's damn impressive.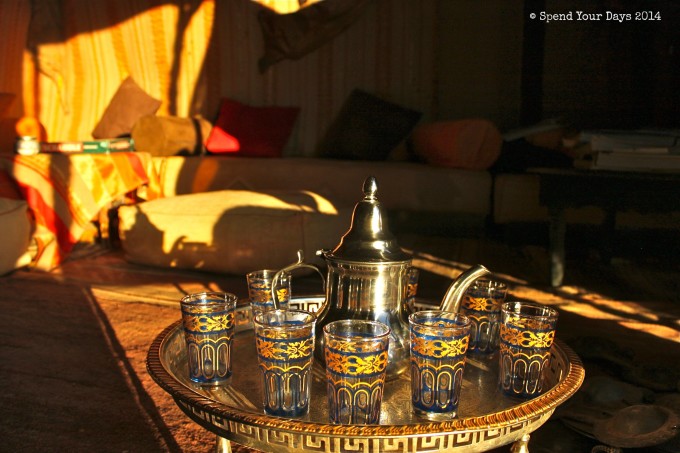 We played in the dunes as the sun set on our first full day in Morocco: a journey in the truest sense of the word.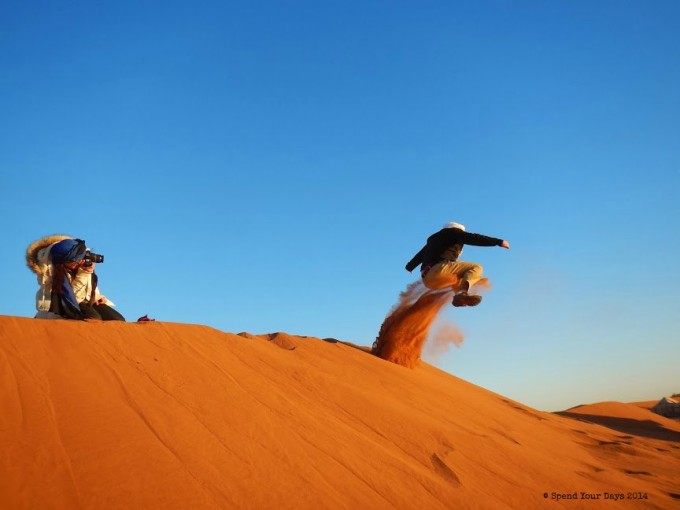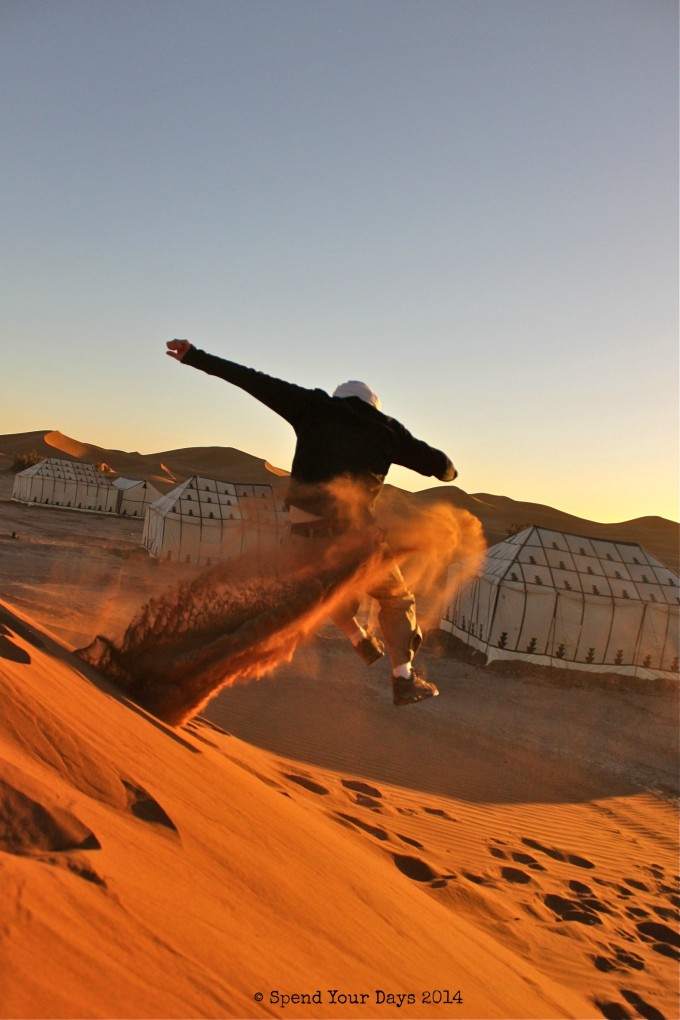 Some places in the world take a minute to sink in… to know the light, the shadows, the scent in the air.  The middle of nowhere, it seems, takes a little longer.
Perhaps because the Saharan desert is perpetually in motion… shifting, melting, changing color by the minute.  The desert seems to be on its own journey that can't be easily summarized by a first impression.
Very much like Morocco itself.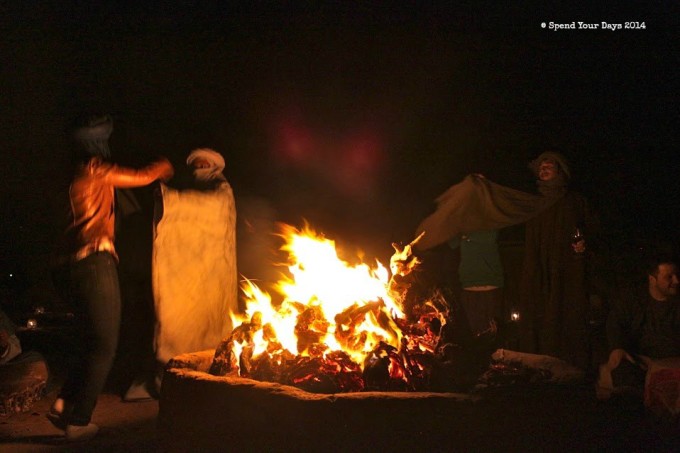 **An aside on Morocco's famous argan oil… Offer a girl a spritzer full of Moroccan argan oil in the arid Saharan sands, and better believe she will use it.  Use it I did.  Post-shower at Khris Palace in Ouarzazate, I hit the argan oil and hit it hard.  Then realized I smelled… off.  Am I the only kid who didn't know that traditional, handmade argan oil is processed by fishing the digested argan nuts out of goat poop, and then pressed into oil?  As Brother B too gleefully researched, then helpfully pointed out again & again to anyone who'd listen, I'd been moisturizing with eau de goat poop. (Cosmetic-grade argan oil is processed directly off the tree, for your poop-free pleasure.)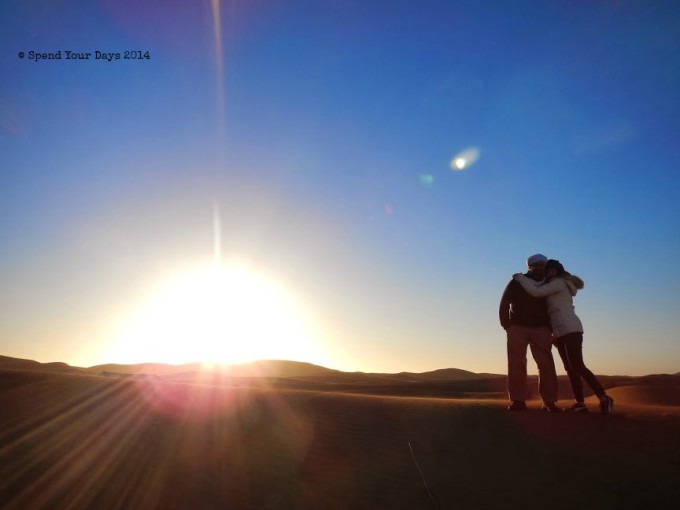 Explore my next day's adventures meeting a chameleon named Georges and going nuts for… sand.
Details of the Day:
Accommodations: Our whole group cannot recommend Khris Palace in Ouarzazate highly enough.  (Don't be put off by their French website- the owners will email in English!)  No detail was overlooked, and it's perfect for a larger group.  For an extra $5, the house manager Hassan will meet you at the Ouarzazate airport.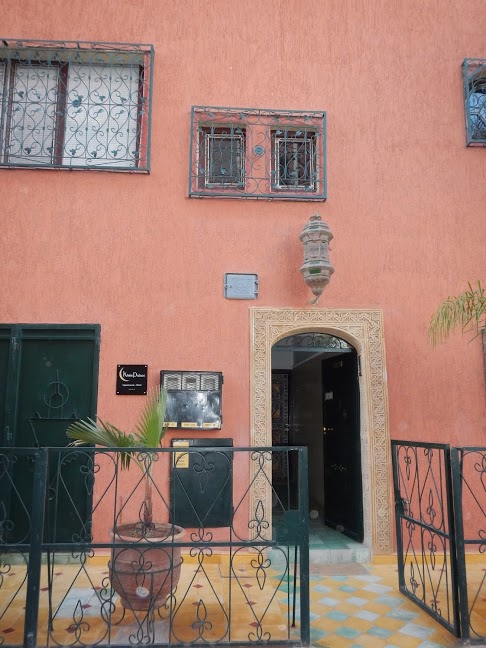 Visiting Casablanca: I don't know what Bogie & Bacall were smokin'… correction, I do… but Casablanca is far more industrial than most romance-hungry visitors imagine.  The city comes complete with a faux Rick's Café erected to supplicate tourists stumbling around in search of the Casablanca that 1940's Hollywood promised us.
I'm sure there are some visitors who really enjoyed the city.  They just weren't us.
Talk the Talk: Unless you're staying in Marrakech the entire time, don't expect that English will be spoken.  Morocco's two official languages are Moroccan Arabic and Berber, with French spoken as a second language among most. Cousin Z, as it happens, speaks Lebanese Arabic and spent a semester in Paris.  Without her, there would've been a lot of ridiculous pantomiming.  (To maintain a modicum of self-respect while pantomiming your needs in Morocco, learn one phrase: "Where is the restroom?")
Want More?