Time for a new tradition, says me!
Enjoying other people's photos is perhaps my favorite part of reading my favorite blogs.  Each photo permits me a little window into a different life.
Kind of like travel, no?
Hence my new series: "Window Into…"
Each week I'll feature one photo centered around a theme and offer a little window into the story behind the image.  I'd love for you to join in, if you're so inclined, to share a peek into your own life experiences!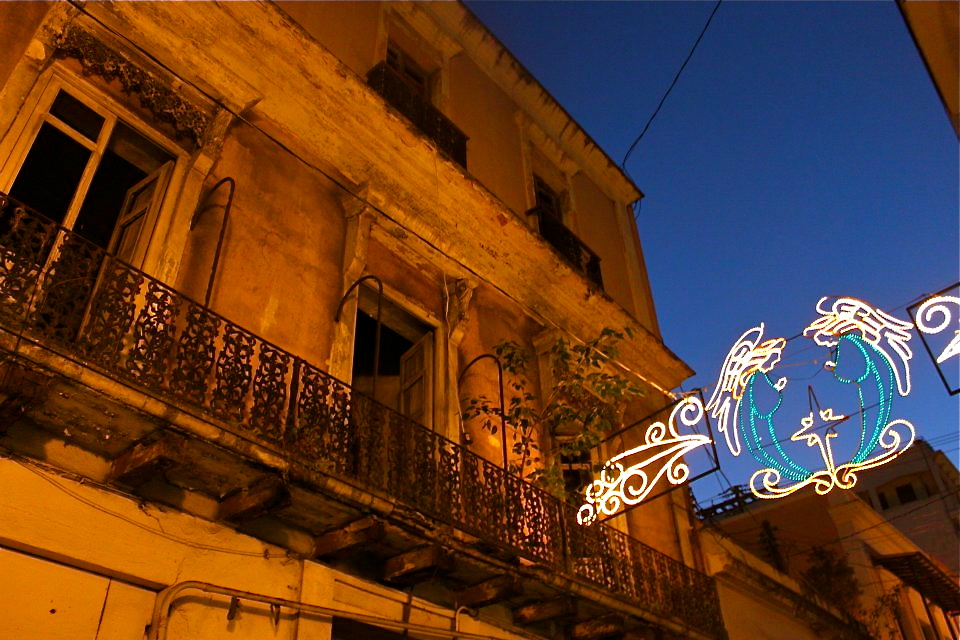 I love this unassuming shot of an alley in Puerto Rico's capital city.  Something about the juxtaposition of Old San Juan's stately architectural decay with its sparkling & electric Christmas lights.  The angel-scape completely lit up the otherwise dark lane.
Ever the celebratory folk, Puerto Ricans celebrate la Navidad all December long- all the way through Dia de Reyes on January 6th!
If you visit the island nation during their end-of-year festivities, you'll find every square in Old San Juan lit up with a massive Christmas tree, lights, and angels.  Every Puerto Rican town- no matter how small- takes pride in their holiday decor.

This jubilant local pride was one of my favorite take-aways from the trip.  And who isn't a fan of stretching the joy, spirit, and compassion of the holidays for as long as humanly possible?
*********************************************************************************************************************************
If you feel like joining in and sharing a window into your life, I'd be super excited!  If you don't want to ruin our friendship by taking things to the next level, I got you- and promise we can still be "just friends."
Show us your favorite 'celebration' photo… a Christmas tree ornament, an iPhone picture of a party cocktail, or a glimpse of how you celebrate the holidays in your home!
Just tag your post with "Window Into: Celebration," and post a link in the comments section so we can find you!  I can't wait to see your celebrations!
Want More?