Spurred on by the fantasmic book I got for Christmas, 36 Hours: 150 Weekends in the US & Canada (make this book your Valentine's Day present to yourself… or have me send your significant other a hint-y email that this is way better than cheesy heart-shaped jewelry), Mr. M & I bookmarked this past weekend for an overnight trip to Palm Springs.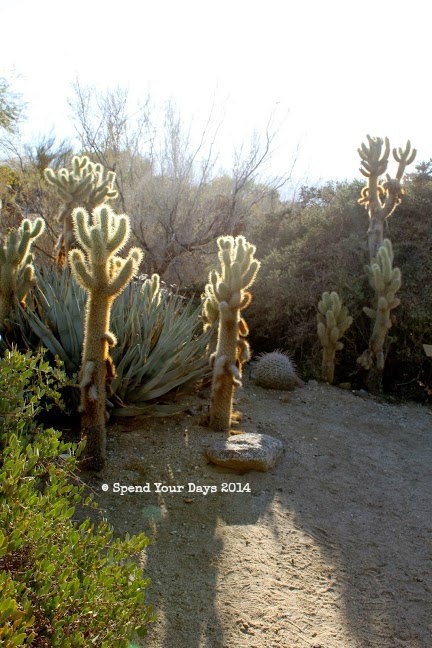 Palm Springs is one of those places that Angelenos my age associate with childhood road trips… our collective National Lampoon's Vacation experience, with our own parents filling in for Chevy Chase & Beverly D'Angelo.  We all have memories of cannonballing into a motel pool in summer's hundred-degree weather or eating ice cream under the sidewalk misters downtown.
Unable to pinpoint the last time we'd actually been back, Mr. M & I began to wonder: what do adults do in Palm Springs?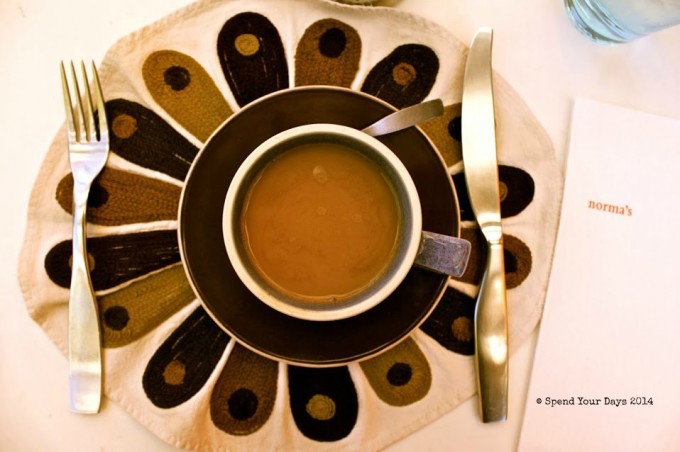 Days #11,619-20:
Adults Relive Childhood Fantasies
If you're a product of the 80's- or currently drop a lot of acid- one of your favorite, favorite movies has to be "Pee Wee Herman's Big Adventure," where Pee Wee's beloved bike is stolen, and he ends up on a roadtrip to recover it.  If you don't know what 1985 Tim Burton masterpiece I'm talking about… this movie will either fill a hole in your heart you didn't know existed or make you seriously doubt my lucidity.
There's a part in the movie where Pee Wee watches the sunrise from inside the mouth of a giant T-Rex (above at 4:56 and 5:14).
Brace yourselves, Children of the 80's.
The T-Rex EXISTS.
And he lives on the way to Palm Springs.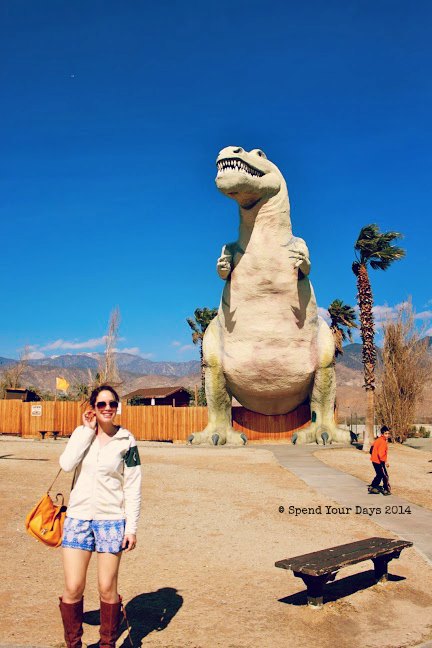 The Cabazon Dinosaurs were built in the 60's & 70's by an octogenarian sculptor.  Both dinosaurs have open living areas inside (although you can currently only climb Dinny the Brontosaurus), and- be still, my beating heart- the T-Rex was built with a giant slide running the length of its tail.  OMG!!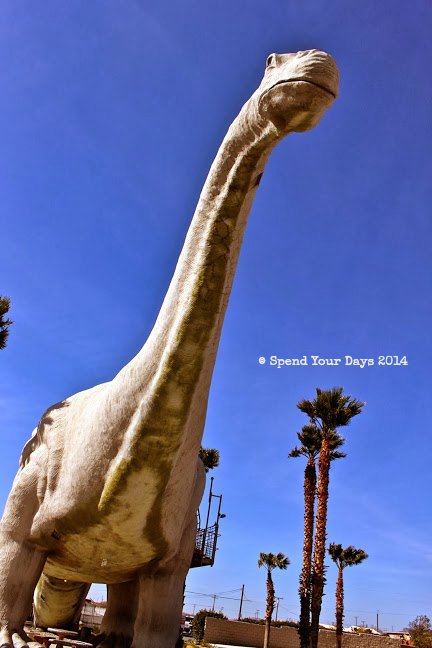 Adults Realize that Kid Stuff Has Grown-Up Appeal
Half the fun of a trip to Palm Springs IS the trip to Palm Springs.
What was once my mother's stop-hitting-your-sister stopover (universally known among So Cal parents, as Mr. M has memories of being pushed out of the family van at the exact same pit stop) has become a non-negotiable detour on the way to Palm Springs.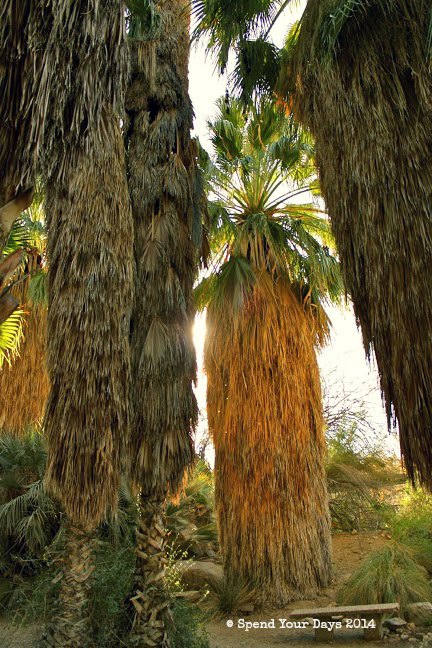 Hadley Fruit Orchards (48980 Seminole Dr, Cabazon, California) is world-famous (okay, maybe just LA-famous) for their  dates.  Namely, road-trippers line up for date milkshakes- and, oddly enough, their signature ostrich burgers.
Mr. M & I bounded out of the car for a date-banana shake and realized that Hadley's is a kind of dangerously enticing, slightly healthier, grown-up Willy Wonka's Wonderland.  My eyes got all googly, and I may have blacked out because before we knew it, there was $70 worth of dried soup mixes, homemade marmalade, figs, and fresh honeycomb from the orchard's apiary in our cart. ($70!! Just because I want all the things does not mean I can HAS all the things.)
Adults Make it Edu-ma-cational
My mother-in-law Mama Betty told us that if we made one stop, it should be at the Living Desert (47900 Portola Ave, Palm Desert), a botanical garden + zoo hodgepodge just outside town.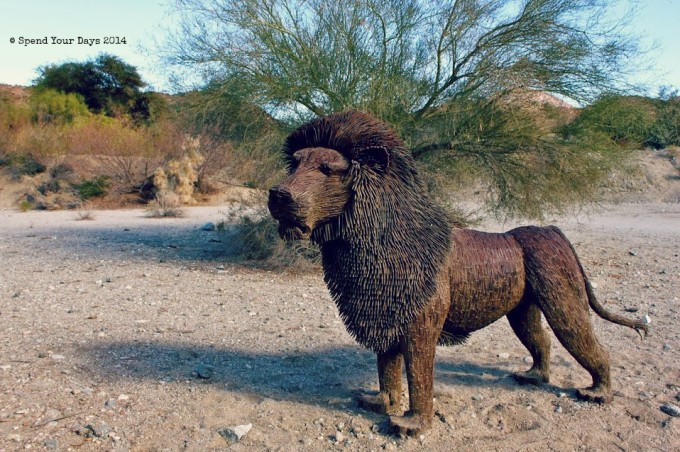 The Living Desert showcased creatures from deserts all over the world, from Africa to Mexico.
I was especially pleased to see that nearly all the animals had state-of-the-art enclosures with tons of space to roam and multiple enrichment items (toys, mud pits, and treats) to keep their minds active.  There's little that puts me in a worse mood than a zoo that doesn't make animal welfare a priority.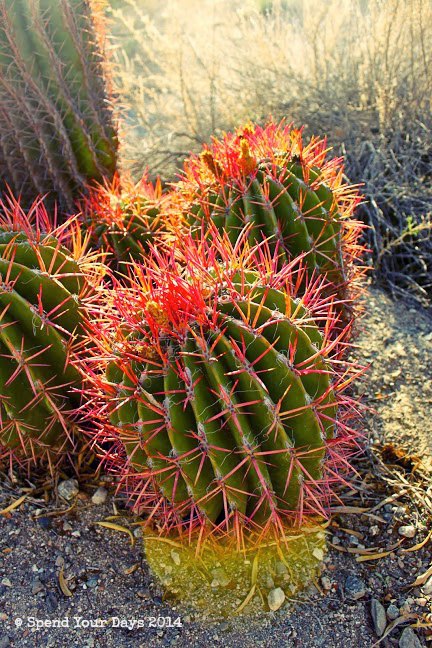 One of my favorite parts was getting to tour the new Tennity Veterinary Hospital.  It is BEAUTIFUL and comes equipped with video cameras and full-wall windows, so visitors can watch any physical examinations and surgical procedures that are scheduled for the day.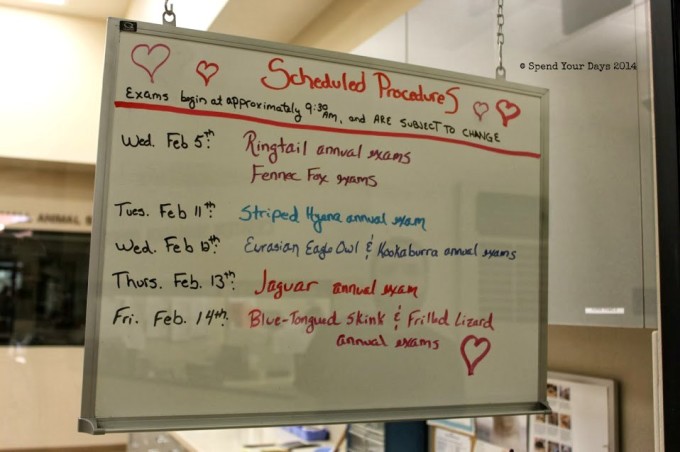 Adults Eat As Many Dinners As They Like
Palm Springs used to be famous as a movie star hideaway for Old Hollywood types.  While many of the retreats are still fancy schmancy homes, some have found new lives.
Mr. M & I ate dinner at Copley's (621 N Palm Canyon), which is a restaurant in what used to be Cary Grant's old estate.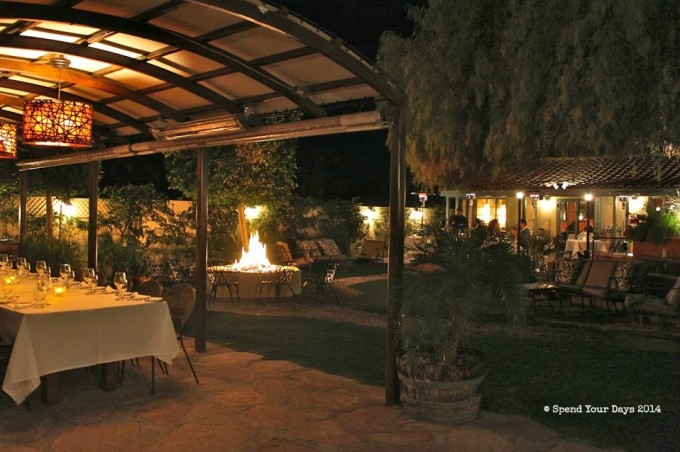 We hopped across the street to the Colony Palms Hotel to check out their poolside Moroccan lounge… and ended up getting sidetracked into… more dinner.
Happily, when you're grown-up, you can eat as many dinners as you like.
Adults Relearn How to Be Kids
Our hotel just so happened to have a fleet of cruiser bicycles available for guests' use.  While I imagined this to be a much-appreciated albeit thinly-veiled attempt to lure hipsters to the property, I hadn't realized what a perfect biking town Palm Springs is.
I found a map of Palm Springs bike routes online, and Mr. M & I were off on our baby blue cruisers to explore the Tahquitz Creek Loop.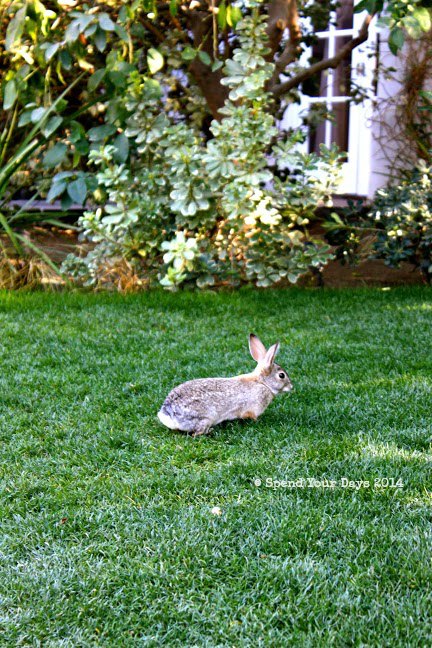 It took a little while to revert to riding a cruiser, but after falling like idiots while trying to come to a stop in front of Real Road Cyclists, we remembered that old bikes have coaster brakes that are engaged by pedaling backwards.  Right-o.
It was SO much fun.  And free! (I'm still working through the fact that I spent $70 on damn dried fruit. Free = good.)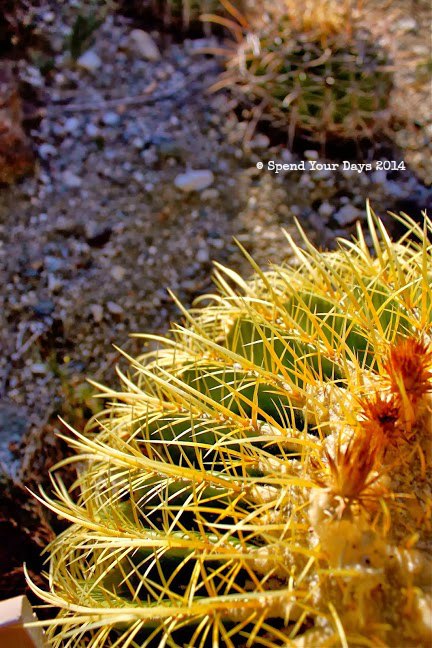 Adults Appreciate Culture… and Brunch
Like San Francisco to the north, Palm Springs WORKS the Sunday morning brunch scene.  Post bike ride, Mr. M & I made the pilgrimage to Norma's in the Parker Palm Springs.
Although we came to the Parker sniffin' for food, we ended up staying the rest of the afternoon to take in the tres-hip mid-century modern interior design.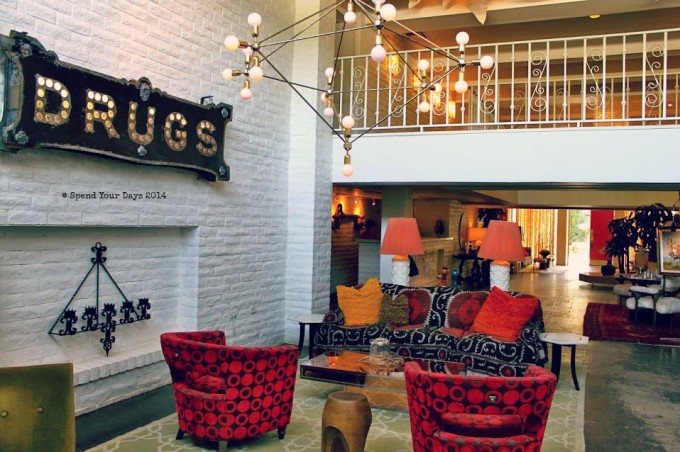 Palm Springs is known for its mid-century modern architecture and design.  Many of the homes and businesses in the city have been maintained or renovated in this style, which makes visiting the city kinda feel like hopping in a time machine set for 1960's Cool.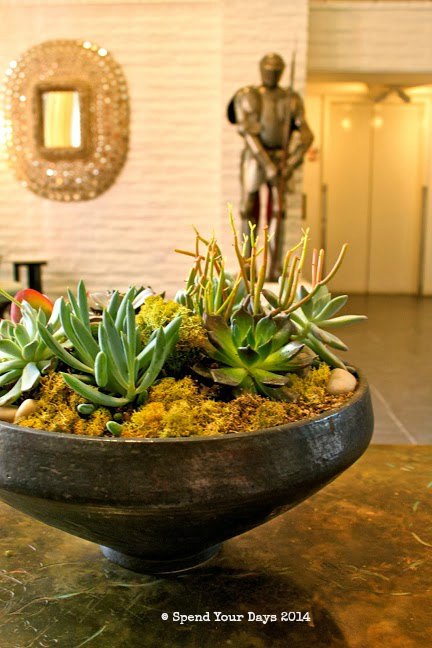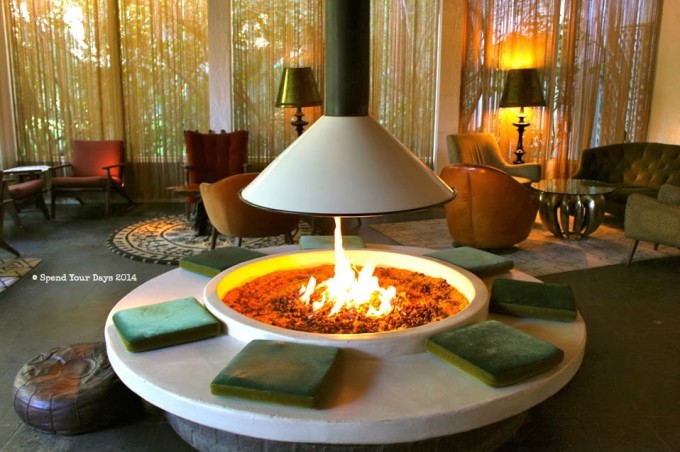 Just as a visit to Palm Springs whisks you back to the Rat Pack era, revisiting a childhood vacation spot is kinda like going back in time.  You're returned to a world where you're used to being a kid.  In fact, it's not a huge stretch when you've spent the morning riding a beach cruiser with the sun in your face.
Carefree, a little giddy, free to slurp up date shakes and to ooh & ahh over giant dinosaurs and to hold out hope that maybe, just maybe, Pee Wee Herman will appear and want to have another Big Adventure, this time with me…
Palm Springs was like being a kid again.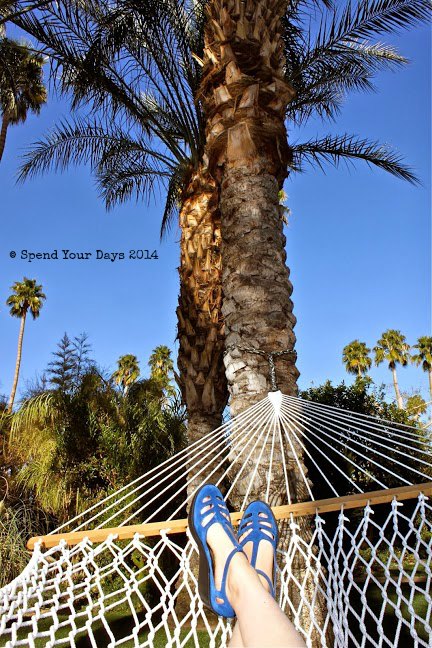 A kid who appreciates a good martini, of course.
Details of the Day: 

Palm Springs isn't the place to stay in a sterile Marriott.  Soak in the mid-century goodness and stay in one of the renovated retro motels. Because our stay was really last-minute and winter is high season, many of my top picks had been snatched up.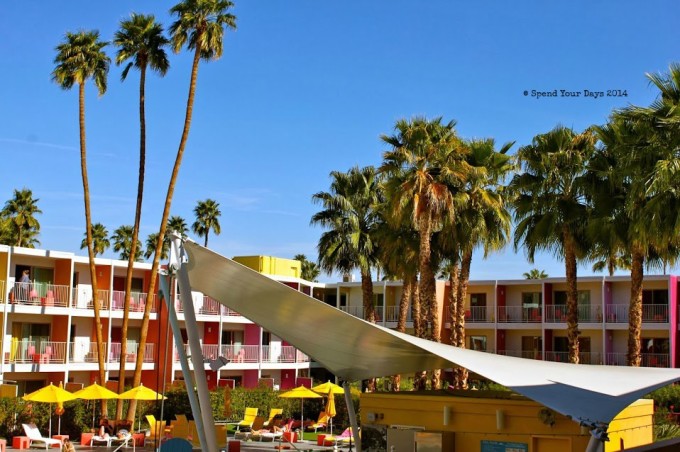 I booked us a room at The Saguaro Palm Springs, which was insanely hip but a little too Vegas-Spring-Break for my taste.  (For me, Palm Springs says 'lounging with a wine spritzer,' not 'poolside DJ spinning Juicy J at 10am.' I might just be an old lady party pooper.)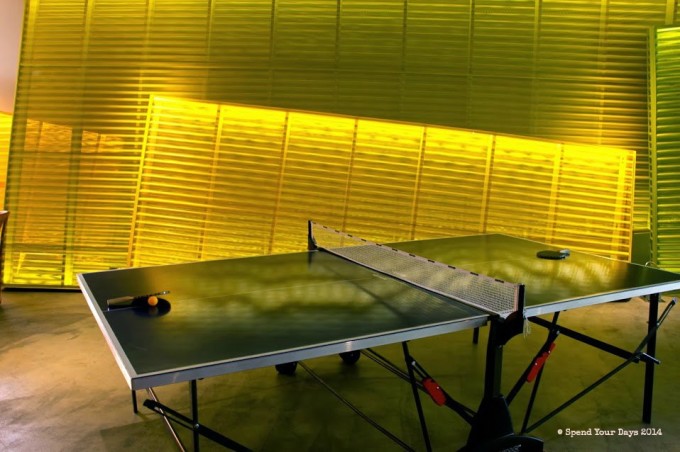 Want More?